Corsair's HX range of power supplies have been very successful for the company so it makes sense they release a new version in 2017 with up to date technical improvements, full modular capability and enhanced 80 Plus Platinum efficiency levels.
First impressions are positive. The unit is finished to a high standard and Corsair have been careful to omit all colour from the power supply so it can easily match any schemed system build you are planning. Paintwork is deep and it proves difficult to scratch – this is more important than you think, as I have had power supplies mark very easily, simply by sliding them into the recess inside a new case.
Technically the HX850 is very proficient and it didnt flag any noticeable concerns throughout the last week of testing in our labs. Our results highlight that load regulation is very good, and the HX850 Platinum also passed the cross load test without a hitch. Efficiency levels are high (hitting close to 93.5% at 50% load) and thanks to the new internal design and updated Type 4 cables, ripple suppression is excellent.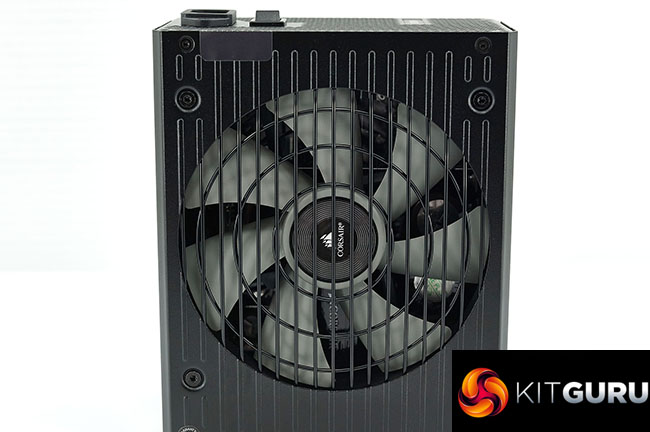 According to our latest polls run on the main site and on social media, the most popular power supply capacities are 650 Watt and 750 Watt followed closely by 850 Watt units. There are benefits to owning a higher rated power supply. For example, an 850 watt power supply will easily handle a high end dual card Crossfire or SLI system but it will do so with plenty of power in reserve to ensure the fan isn't running too high (think noise), and efficiency levels are close to peak between 40% and 60% of total load.
The Platinum HX850 power supply ships with plenty of cables to cover modest to high end system builds, and the pure design means you aren't left routing any cables you don't need – ideal to keep the appearance as good looking as possible.
Those of you who hate noisy power supplies will like the HX850 Platinum. The NR135P fan is basically inactive for the first half of the power delivery and when the load increases, the fan never spins higher than 1,000 rpm (at full load). The Fluid Dynamic Bearing fan fitted in this power supply is very quiet and will be likely masked by any other fans in the system build.
You can buy the Corsair HX850 Platinum direct from Overclockers UK for £154.99 inc vat HERE.
Discuss on our Facebook page, over HERE.
Pros:
Build Quality.
ripple suppression.
low noise.
fully modular.
Platinum efficiency.
lack of coil whine.
Cons:
Stiff competition around the £150 price point.
KitGuru says: The Corsair HX850 Platinum is a fantastic power supply, built to the highest standards. Its fully modular, quiet, well built, and technically very proficient. Another quality unit from Corsair.