The Corsair RMi Series 750W power supply has proven very capable in our tests today and will firmly target the enthusiast audience who need an efficient, fully modular power supply at a reasonable price point.
Technically the new RMi 750W delivers stable, quality power and it coped with a sustained 830 watts during our stress testing throughout the last week. It passed load regulation and difficult cross load tests, without raising a red flag.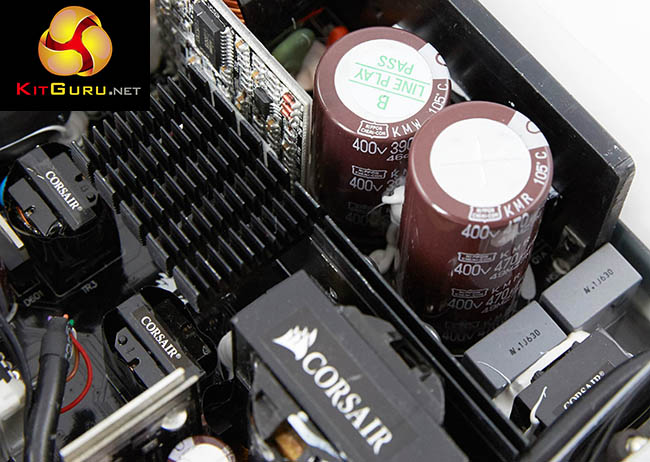 The Corsair NR135P Fluid Dynamic bearing fan is one of the best on the market and when tasked to deal with 500 watts or more it remains basically inaudible, even until the last 10% of power delivery. It is good to see Corsair improving their fan designs because some of their earlier power supplies could get a little intrusive under heavy load situations.
Ripple suppression rates as very good and well within industry rated parameters, even though the results are some way from the best we have seen in recent months. The internal CWT design incorporates high grade 105C Japanese grade Nippon Chemi Con capacitors, which is great to see for long term reliability.

While some readers tend to focus on 1000 watt+ monster power supplies for their system builds, this 750 watt unit is more than capable of handling a powerful dual SLI or Crossfire rig. We tested it in a real world environment with two GTX980 Ti's in SLi, alongside an overclocked 4790k with multiple drives and 16GB of 2666mhz memory, and it was rock solid.
The fully modular design will appeal to system builders using windowed case panels. It is good to note that the quality of cabling is excellent and while it could be considered as overkill for a media center, it does tick all the necessary boxes as the foundation for a high grade HTPC system.



You can buy the Corsair RMi Series 750 watt power supply from Overclockers UK for £114.95 inc vat.
Discuss on our Facebook page, over HERE.
Pros:
high build quality.
fully modular.
low noise.
technically very capable.
105c Japanese capacitors throughout.
Cons:
Faces stiff competition from brands such as Seasonic.
Kitguru says: The Corsair RMi Series 750 is a well made, high performance PSU which delivers stable power. The internal design is proficient and the use of high grade 105c rated Japanese capacitors will help ensure long term reliability.