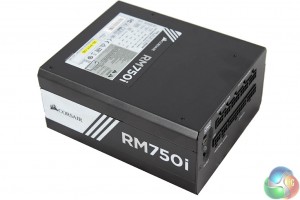 The Corsair RM750i follows the companies design ethic of keeping it 'clean and simple' looking. I always like the appearance of their power supplies, and I was pleased to see the gaudy yellow colours on the box didn't carry over to the unit itself.
Finish quality is high and it passed our screwdriver test. This involves running the head of a Philips head driver down the side of the chassis with light to medium force. After all, how many times have you accidentally connected with a power supply during a system build?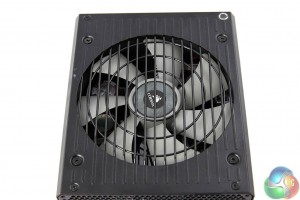 The large, pale coloured fan rests behind a metal grill. We will take a closer look at this shortly when we open the unit.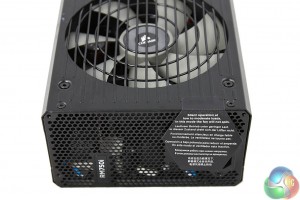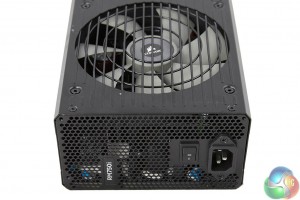 A sticker brings attention to the silent fan mode during low to moderate loads. When this is removed we can see one side of the unit is vented with a power connector and switch for operation.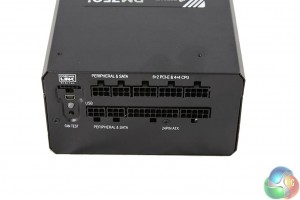 The modular bay is a two row implementation – clearly labelled to make the build phase as straightforward as possible. The digital link connector is located in a separate panel at the side. As the sticker explained – the fan in this unit is often not spinning at all under general load conditions – Corsair have therefore thoughtfully included a 'fan test' button so the user can check the fan is actually working.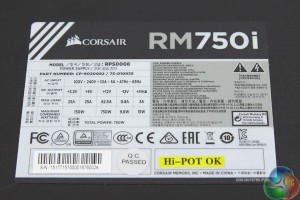 Corsair RM750i in Single +12V Rail Mode

DC Output

+3.3V

+5V

+12V

-12V

+5Vsb

Max Output

25A

25A

62.5A

0.8A

3A

Total Power
150W
750W
9.6W
15W
750W
Corsair RM750i in Multiple +12V Rail Mode

DC Output

+3.3V

+5V

+12V1
+12V2
+12V3
+12V3
+12V5

-12V

+5Vsb

Max Output

25A

25A

40A
40A
40A
40A
40A

0.8A

3A

Total Power
150W
750W
9.6W
15W
750W
The Corsair Link software can change the RMi power supply DC output configuration from the default setting of multiple +12V rails to a single +12V rail.  The RMi series can deliver all of their available power over the +12v rail.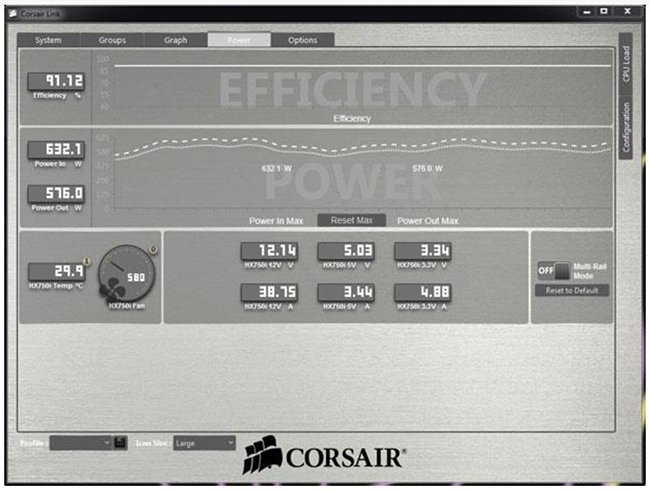 At the default setting, the RMi has over current protection (OCP) on all of the rails. Each of the 8 pin connectors used for CPU power and PCIe power delivery has a 40A OCP over the +12V. The six pin connectors for SATA and Molex +12V leads have collectively a 40A OCP, as does the two +12V leads on the 24 pin connector.
This OCP can be disabled within the Link software. You simply toggle the multi rail switch on the right to the 'off' position. This will open up all the connectors to the PSU's full +12V capability.