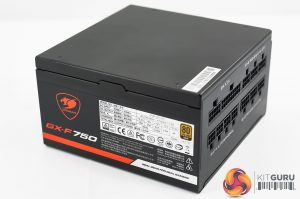 The unit is very compact and the overall design is quite simple with only a little red accenting on the branding. All of these are stickers incidentally and can be removed without a lot of effort – leaving a black box – if that suits your themed build better.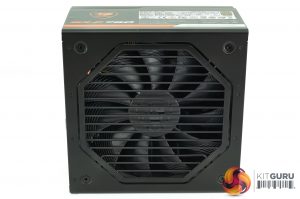 The large black fan is hidden behind a metal grill. We will take a closer look at it shortly when we open the supply.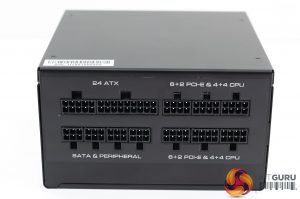 One side of the power supply is home to the modular connector bay – all cleanly laid out in two rows and labelled for ease of installation.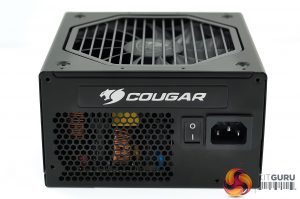 The other side of the power supply has a vent to help with air flow, alongside a power connector and switch. The 'Cougar' name is visible above the vent. Quite honestly, a little less branding with a bigger air flow vent here would have been a better move.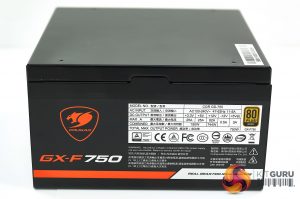 All of the Cougar stickers are easily removed. One of them was actually already starting to peel a little when I opened the box.

I was very surprised to see a 25A rating on both minor rails, for a total output of 150W. I would be expecting to see around 100W here as it would likely help the unit achieve a higher efficiency rating.  We don't want to excessively waste energy on the convertors for the minor rails.
The +12V rating of 62A is fine – as you would be able to power one or two graphics cards without any concerns.