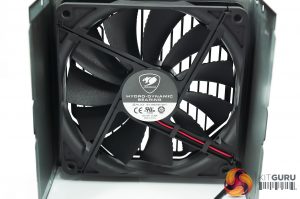 Even though no one is likely to ever open their power supply (as it will void the warranty) Cougar are keen to showcase the 'Hydro Dynamic Bearing Fan'. Life is rated at 150,000 hours. Its a 12V 0.33A rated fan made in China.

If you can't see the gallery of the power supply above, then you may need to whitelist us in your ad blocker as they can interfere with our display code.
This is a new platform from HEC and it features a proprietary transformer which is connected via bus bars to a daughtercard which incorporates the +12V FETs. This is a good way of doing it as the designers are able to reduce the energy losses sometimes inflicted with other designs. Soldering quality is a little disappointing and certainly not a patch on the high end units we have been reviewing lately from Seasonic.
HEC are using polymer capacitors for their ripple filtering stages although I did notice some cheap Chinese TEAPO SC caps.  The primary capacitor is a 1055c rated Japanese capacitor from Nippon Chemi Con – in their KMW series – rated 400v 680uF. Sadly the secondary caps are lower grade Taiwanese and Chinese brands. The HEC design does have UVP, SCP, OTP, OCP,. OVP and OPP which is good to see.