The Cougar GX-F 750W is a fairly solid unit, priced very competitively to target a large audience. The HEC design does nothing exceptionally well, but it also doesn't exhibit any glaring weaknesses that would cause concern. On an aesthetic level, I wasn't that impressed – its covered with stickers, one of which was peeling off at the corner when I opened the box. To be honest, I would remove all the stickers myself before putting it into a build. A plain black compact box is easy to hide.
The compact physical nature will appeal to many people – it will fit into the smallest of cases on the market today and the fully modular design will be ideal to keep a new system build as neat as possible.

Technically we didn't run into any major issues. Its quite loud under load thanks to a bizarre and frankly somewhat unnecessary aggressive fan profile that has been set for the unit. A little tweaking to this profile could have reduced noise yet provided enough air flow for the supply. Above a 400W load, the fan can be easily heard, so this is a little disappointing.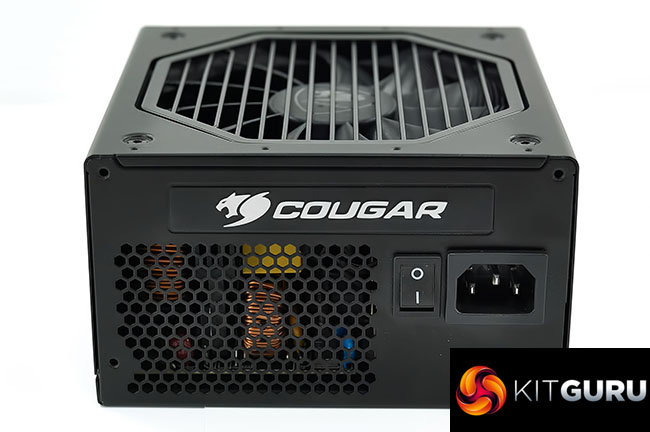 Load regulation falls within a parameter I would deem acceptable and ripple suppression is surprisingly good, especially the +12V  rail. Efficiency levels are pretty good considering the modest (by 2018 standards anyway) 80 Plus Gold certification.
It was great to see the HEC design incorporating a 105c rated Japanese primary capacitor, however the secondary stage adopts cheap Teapo SC capacitors, which raises a few concerns in regards to long term reliability for me.
Earlier in the review I mentioned that Cougar didn't adopt a secondary EPS connector for this 750W unit which seems a short sighted mistake to me. It will rule out any use for potential AMD Threadripper/Workstation uses and at this price, it would have been a solid option for system builders trying to keep costs down as much as possible.

You can buy the Cougar GX-F 750 watt power supply from Overclockers UK for £89.99 inc vat HERE. For another £12 you can get the Seasonic Focus Plus 750W 80 Plus Gold Modular power supply from Overclockers UK HERE.
Both supplies are fully modular, 80 Plus Gold rated and physically compact. That £12 extra ensures you aren't dealing with TEAPO capacitors in the secondary stage however, so for me it would have to be Seasonic, every time.
Discuss on our Facebook page HERE.
Pros:
Fully Modular.
105c Japanese primary stage capacitor.
ripple suppression is great.
competitively priced.
Cons:
stickers galore, one of which was already coming away from the chassis.
cheap TEAPO secondary stage capacitors.
single EPS connector seems an oversight.
Loud under load.
Only £12 cheaper than the all Japanese Seasonic Focus Plus 750W Gold.
Kitguru says: This HEC design proves a solid enough power supply. If only they had decided to use good capacitors in the secondary stage instead of cheap Chinese TEAPO it would get a higher recommendation. £12 more gets you 100% Japanese Seasonic.