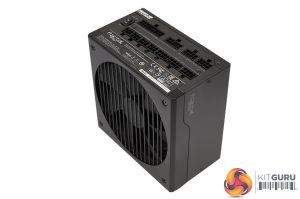 The Fractal Ion+ 860P is a very clean, nicely finished unit with a neutral colour scheme which will likely appeal to system builders focusing on a new themed rig.  Likely it may get hidden behind a PSU shroud, but the neutral scheme is beneficial.

The chassis measures 150 mm x 150 mm x 86 mm and it weighs 1.665 kg, slightly more than the 560P and 660P (1.61kg).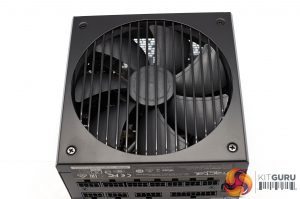 Beneath the metal grille is a large 140mm FDB fan. This is a low noise fan with high reliability and long life characteristics (100,000 hours MTBF).
One side of the unit has a vented panel to help with airflow, as well as a power on and off switch and connector.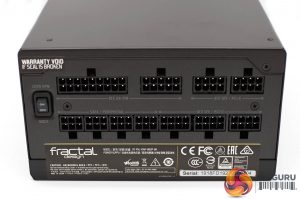 The other side of the power supply is home to the modular bay, all clearly labelled. There is also a switch here to toggle the semi passive fan mode.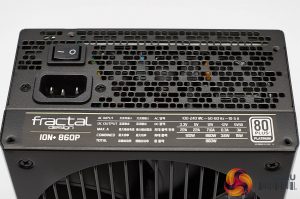 Fractal Design Ion+ Platinum 860P PSU

DC Output

+3.3V

+5V

+12V

-12V

+5Vsb

Max Output

22A

22A

71.6A

0.3A

3A

Total Power
120W
860W
3.6W
15W
860W
The single +12V rail is able to deliver 71.6 Amps for 860W of the total load. Interesting to see that Fractal have placed the power characteristic sticker on the rear of the chassis – this can be seen from the outside of the system build when the power supply is installed.