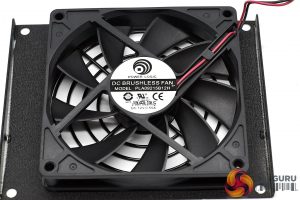 FSP have adopted a Power Logic 92mm ball bearing fan, Model number PLA09215B12H. Rated 12V 0.55A. There is no partial plastic shroud around this fan to direct airflow, meaning the air just flows underneath.

Below is a gallery of the internal power supply design. If they do not display then whitelist our site in your adblocker as they can interfere with our display code.
This FSP design has a couple of heatsinks in key positions, to help with cooling. FSP have adopted Japanese capacitors throughout both primary and secondary stages, with the primary hold up cap being a 105c Nippon Chemi Con rated 420V 330uF from the KMZ family. Rubycon are also used in the secondary stages. These are all quality capacitors.
PCB soldering is pretty good across the board.
They are using a 3.3V and 5V DC-DC module design to help improve voltage regulation for all rails. We can see there is a new heat sink design for the 12V switching circuitry – which conducts the heat through some thermal pads on the bottom of the PCB – helping to improve cooling. We can see this DC to DC daughterboard is used for both 550W and 650W models.
The FSP Dagger PRO 650W offers OCP, OVP, SCP, OPP, OTP protections and is rated to 200,000 hour MTBF according to literature we received.