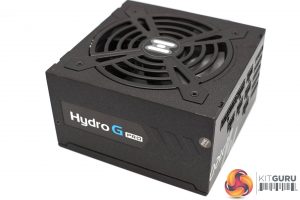 The FSP Hydro G Pro is really nicely finished, and the paintwork is fairly resistant to scratches. The Hydro G Pro logo takes pride of position on one of the side panels – finished in white with a touch of blue on the 'G' of the logo. There are some stickers in the box which allow you to change the colour to either red or green.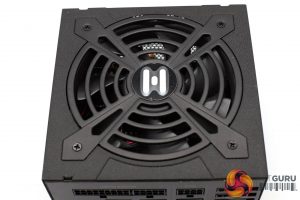 The top of the unit is home to the fan, hidden behind a metal grille, cut in an unusual design.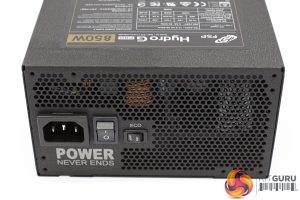 One side of the power supply is heavily vented to allow for good airflow. There is a power connector, button and ECO on/off switch here. FSP say that when the ECO switch is on, the fan will not operate until the load is over 30%.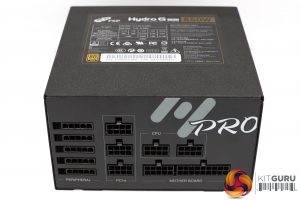 The modular bay on the other side of the power supply is neatly laid out and labelled for ease of use during the install phase. I can't say I am a huge fan of the 'brush script' style 'PRO' font here , in capitals to boot. The eagled eyed among you will realise that this is not silk screened onto the unit itself, its just a big sticker – which can be peeled off. We actually had to remove it, to get inside the unit.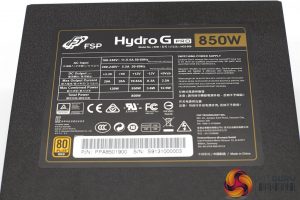 FSP Hydro G Pro 850W Power Supply Review

DC Output

+3.3V

+5V

+12V

-12V

+5Vsb

Max Output

20A

20A

70.83A

0.3A

2.5A

Total Power
120W
850W
3.6W
12.5W
850W
The single +12V rail is able to deliver almost 71 Amps or 850 Watts of the total load.