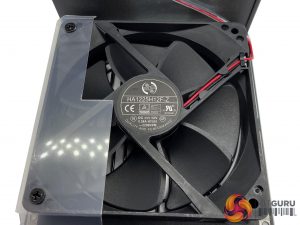 Phanteks have opted for a Hong Hua 120mm fan (Model number HA1225H12F-Z). This is a Fluid Dynamic Bearing fan for quiet operation and long life. It is rated 0.58A, at 12 VDC. Maximum speed is rated at 2,200rpm, producing 73.9CFM at 32.4dBa. You will notice the unusually cut plastic cover along the left side of the fan – this is to direct the air flow at specific parts of the power supply underneath. This is the same fan we have seen in many Seasonic branded power supplies in recent months.

Below - a High Resolution Gallery of the internal layout of the Power supply.
Please be aware if the gallery doesn't load you will need to disable your ad blocker as it interferes with the code.
This power supply is a Seasonic Design – a modified Focus Plus Gold unit. This is a quality power supply, which we have seen being adopted by other brands, such as ASUS.
Input filtering starts on a small PCB with Y and X capacitors in place – moving to the main PCB for completion.  Inside are a fair few smallish heatsinks to aid with cooling key components. The power supply is using a full bridge LLC topology with synchronous rectification with DC-DC VRM's for +3.3V and +5V rails on secondary.
Asus are using bigger heatsinks to likely try and reduce noise levels. By memory the PCB looks to be a bit bigger too. Asus are using high grade 105c rated Japanese capacitors throughout the design with the primary Rubycon hold up capacitor rated 560uF 400V @ 105C.