The Phanteks AMP 750 has been shown to be technically well designed and capable of delivering the highest quality levels of power. Phanteks may be well known for their chassis design, but their decision to partner up with Seasonic has proven very positive.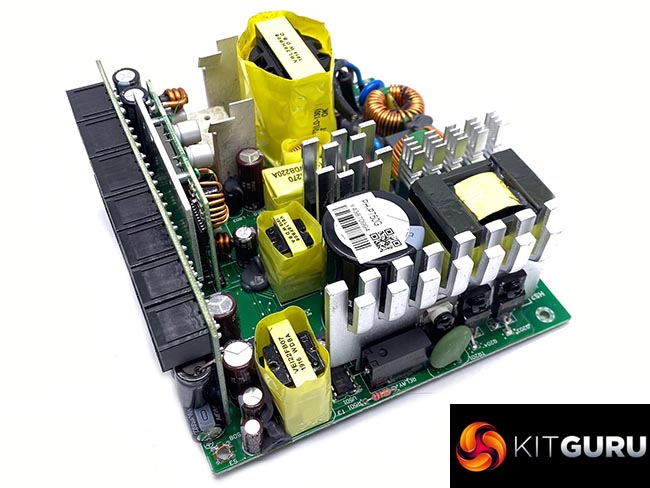 Technically, as we already know, this Seasonic platform delivers tight load regulation and can deal with difficult cross load tests very well. Ripple suppression is another strong point with the +12V output peaking at 25mV under full load conditions.
On a hardware level, no corners have been cut. The power supply uses a full bridge LLC topology with synchronous rectification with DC-DC VRM's for +3.3V and +5V rails on secondary. High grade capacitors are used throughout with the primary hold up capacitor supplied by quality Japanese brand Rubycon.
This fully modular power supply can be used in conjunction with a Revolt PRO power supply from Phanteks (another Seasonic collaboration). The Revolt Pro allows the user to connect a secondary power supply to provide increased power output or redundancy to protect important data from power failures. Phanteks sell two Revolt Pro PSUs, in 850 watt and 1000 watt capacities. We imagine the audience interested in this would be niche, but it is an interesting unique talking point for Phanteks.

Overclockers UK are selling all three AMP units, over HERE. The 550 watt model is priced at £86.99 HERE, the 650 Watt model is priced at £96.95 HERE, and the 750 Watt model we reviewed today is priced at £106.99 HERE. This is around £8 less than the similar Seasonic GX 750 model HERE.
Pros:
Technically solid.
quiet under load.
Japanese capacitors.
delivers close to 850 watts under load.
10 year warranty.
strong pricing.
Cons:
Kitguru says: The Phanteks AMP 750 is a high performance unit, created in collaboration with market leader Seasonic. Its a little less expensive than the equivalent Seasonic offering, and the Revolt Pro Link options may prove useful to people needing redundancy.