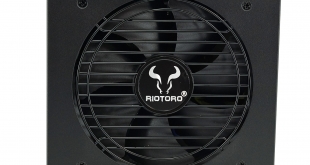 Today we take a look at the new Riotoro Enigma 850W G2 power supply which is 80 Plus Gold Certified, fully modular and built with high grade Japanese capacitors inside. This particular unit is created by OEM partner Seasonic and ships with a recently enhanced 10 year warranty.
You probably haven't heard of Riotoro however they are a relatively new start up founded by former employees of Nvidia and Corsair. They told us they believe that PC enthusiasts have been overcharged in order to have the best hardware so they set out to design and provide enthusiast grade products at more competitive price points. They have already been making an impact with the American audience, however their next stage is the European market.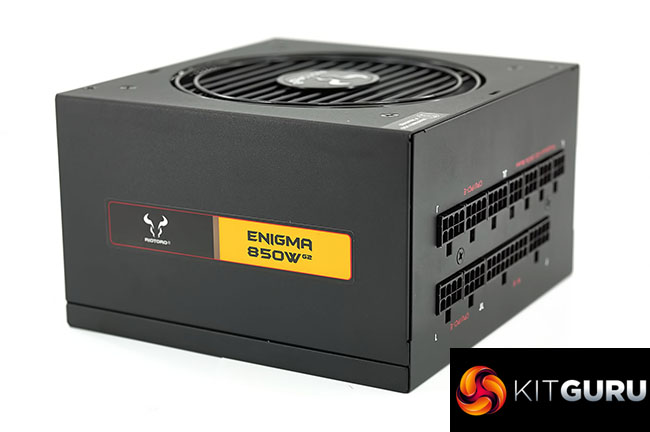 Riotoro (website) are releasing three units in this range – in 650W, 750W and 850W capacities. We are analysing the flagship 850W model in our review today. These units are all based on the Seasonic FOCUS PLUS Gold (FX) designs.
Regular readers will remember that Seasonic FOCUS power supplies were split into two separate ranges. The FOCUS (without a 'Plus') is a semi modular design rated only at 80 PLUS GOLD. The FOCUS PLUS is fully modular and is available in both 80 PLUS Gold and Platinum ranges. Riotoro don't appear to offer Platinum versions, but after checking their website it would appear that the 'G2' part of the name signifies that the model is modular.
When we first spoke with Riotoro they were only offering a 7 year warranty for these units, but a few days before publication they told us that the warranty was extended to 10 years – equalling Seasonic warranty terms.
Enigma 850W G2 Product Features:
80 Plus Gold Certified 90% efficiency – Reduces heat, noise and operating cost.
Fully modular with flat cables – Minimises clutter, eases installation and improves airflow
100% Japanese Capacitors – for longer life and greater reliability.
Hybrid Silent Fan Control – Three cooling modes to balance cooling and noise reduction: Fanless, Silent and Cooling.
120mm Fluid Dynamic Bearing Fan – virtually inaudible under average loads.
Compact ATX 140mm Length – Fits nearly all ATX compliant cases.
10 year warranty (extended from 7).
Review photography handled in house at KitGuru with a Leica S series medium format camera and S series prime lens. Please do not use any of the images within this review without express permission.