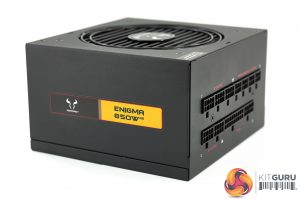 The Riotoro Enigma 850W G2 is a good looking power supply, although I have to be honest- I am not a big fan of the yellow coloured sticker on the side panel. It seems like a small point to make, but we can imagine that many enthusiast users building a colour coordinated system may be put off with the bright yellow markings. Still the paint work is good, and it resists scratches well.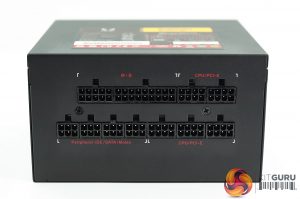 The modular connector panel is almost identical to the one found on the Seasonic Focus Plus 850W supply. The only difference is the colouring of the text above the connectors – its red and not gold.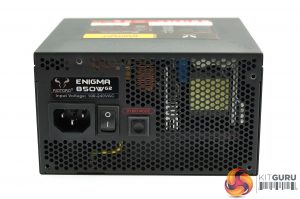 On the other side of the unit, there is a power connector, power switch, company sticker and a Hybrid mode switch which offers semi fanless mode when enabled. The rest of the panel is honeycomb vented to help with air flow.
A large fan is hidden behind a grill with the Riotoro 'bull' style logo in the middle. We will take a closer look at the fan when we open the unit shortly.
The power supply has a 12V output up to 70A, which is around 98.8% of the units total capacity. Each of the minor rails (3.3V and 5V) have a capacity of 20A with a combined rail output of 100 Watts. This is a fairly standardised set of figures from Seasonic based on all of the 850 Watt units I have reviewed from them in recent years.