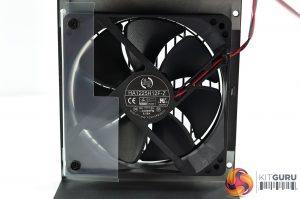 The Riotoro Enigma 850W G2 power supply uses a Hong Hua Fan (Model: HA1225H12F-Z). This unit is built around a Fluid Dynamic Bearing for quiet operation and long life. It is rated 0.58A, at 12 VDC. Maximum speed is rated at 2,200rpm, producing 73.9CFM at 32.4dBa. You will notice the unusually cut plastic cover along the left side of the fan – this is to direct the air flow at specific parts of the power supply underneath. Yes, its the same fan that we saw inside the Seasonic FOCUS PLUS Gold (FX) 850W power supply.

Below - a High Resolution Gallery of the internal layout of the Power supply.
Please be aware if the gallery doesn't load you will need to disable your ad blocker as it interferes with the code.
Soldering quality throughout is excellent as we would expect from Seasonic. Very clean job indeed. This was a new platform for Seasonic back in August 2017 so it is still very fresh.
Inside are a fair few smallish heatsinks to aid with cooling key components. The power supply is using a full bridge LLC topology with synchronous rectification with DC-DC VRM's for +3.3V and +5V rails on secondary.
Input filtering starts on a small PCB with Y and X capacitors in place – moving to the main PCB for completion.
Seasonic are using high grade Japanese capacitors throughout the build with a single 105c rated Nichicon capacitor positioned in the primary stage. This is rated 400v 650uF. Interestingly Seasonic have adopted two primary capacitors in their earlier higher cost PRIME units. The Prime 850W Platinum for instance uses two Nippon Chemi Con capacitors at 400v 330uF each, for a total of 660uF output. The Seasonic Titanium 850W unit is ridiculously over specified – fitted with two Nippon Chemi Con 650uF and 450uF capacitors to output 1100uF!
In the secondary stage are a mixture of solid and standard electrolytics from Nippon Chemi Con.