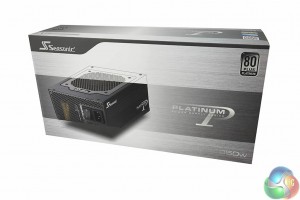 The Seasonic Platinum 1050WXP3 power supply ships in an attractive box coloured to match the Platinum certification.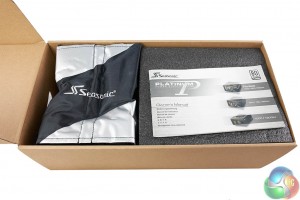 Inside, is a familiar brown box which holds the power supply and accessories, such as the cables.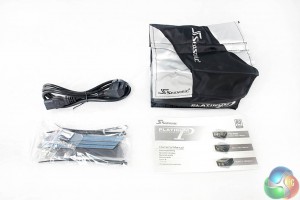 The package includes a modular cable pouch, a regional specific power cable, cable ties, mounting screws and literature on the product.
Interestingly we noticed no mention of this new 1050WXP3 unit in the user manual – just the older 1000W model. Perhaps our review sample was an early one from the factory, but we hope Seasonic update this for the retail channel.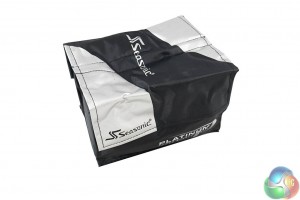 We do love the double sided storage pouch that Seasonic supply with their high end power supplies. Any cables you don't need can be safely stored for future use.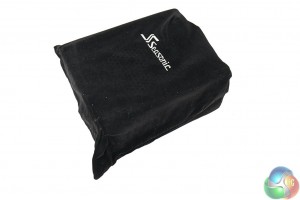 The power supply itself is sandwiched between two thick pieces of foam and is wrapped within a soft felt bag.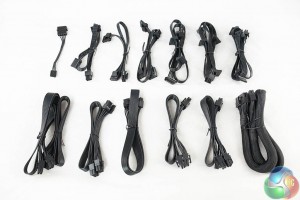 The power supply is a fully (pure) modular design, so no cables are hardwired into the chassis.
| | |
| --- | --- |
| Cable | Connectors |
| MB 20+4 pin | x1 (590mm) |
| CPU 4+4 pin | x1 (650mm) |
| CPU 8 pin | x1 (650mm) |
| PCI E 8 pin (6 pin +2) | x8 (600mm) |
| SATA | x12 (530mm+150mm+150mm) |
| SATA | x2 (530mm+150mm) |
| MOLEX | x3 (550mm+150mm+150mm) |
| MOLEX | x2 (350mm+150mm) |
The cables are all high grade flat ribbon style to help with the routing phase of the system build. The main MB 20+4 cable is sleeved. There are a total of 14 SATA connectors, meaning this power supply is also ideal for a massive storage server system. Those running a high end SLi or Crossfire rig will be happy to note a total of eight 6+2 pin PCI e connectors.