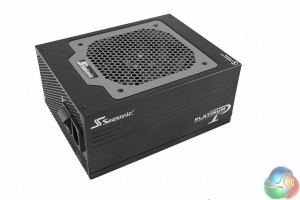 This is a classy, understated unit. Simple black paintwork with Platinum/Silver coloured accenting. The name of the product is clearly marked on the side panels. For those interested, the appearance of the side panels have changed a little since we reviewed Seasonic's 1000W Platinum power supply back in May 2012.
The finish of the power supply really deserves a mention. The thick paintwork passed our 'screwdriver' test with flying colours. This involves running the head of a Philips head driver down the side of the chassis with light to medium force. After all, how many times have you accidentally connected with a power supply during a system build?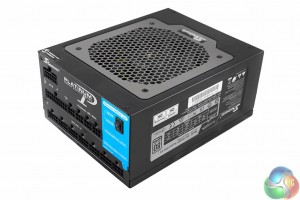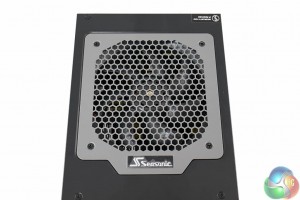 The fan is hidden behind a Platinum coloured grill with Seasonic branding evident along the bottom.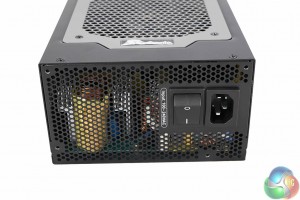 One end of the power supply is vented to help with air flow under load. There is a power connector and switch at the side.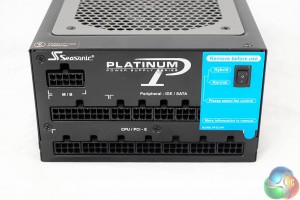 The modular panel is cleanly presented and labelled to ease the installation phase. There is a sticker top right which details the hybrid/normal nature of the fan position.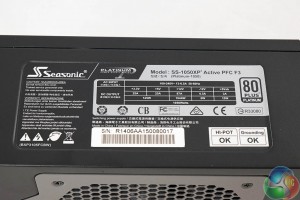 We can see mention of the XP3 revision on the side of the power supply.
Seasonic Platinum 1200W Power Supply

DC Output

+3.3V

+5V

+12V

-12V

+5Vsb

Max Output

25A

25A

87A

0.5A

3A

Total Power
125W
1044W
6W
15W
1050W
The Seasonic Platinum 1050WXP2 power supply can deliver 87A on the +12V rail. Plenty of power for even the most demanding Crossfire and SLi configurations. It is worth noting that this is increased from 83A on the older Platinum 1000W model we reviewed back in May 2012.