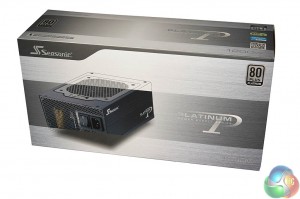 The Seasonic Platinum 1200W Modular Power Supply ships in a box with a sleeve coloured to suit the 80 Plus Platinum certification. There is a high resolution image of the product on the front, nicely presented.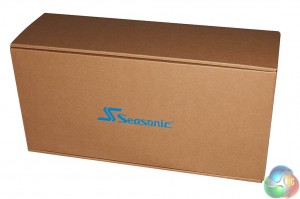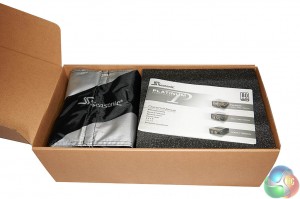 Inside, the main brown has with the 'Seasonic' logo highlighted in blue, in the middle.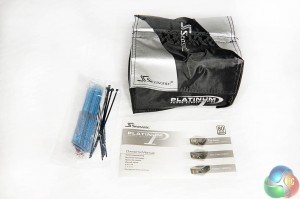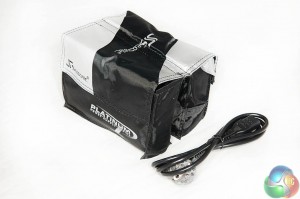 The bundle includes mounting screws, literature on the product, some cable ties, and a modular cable pouch which opens on two sides. Seasonic also include a regional specific power cable. Our review sample tends to ship direct from the factory so we don't get a UK power cable.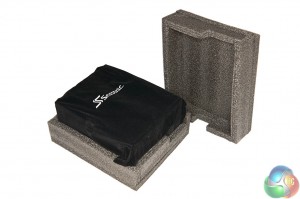 Seasonic protect the power supply between two thick foam pads. It is also wrapped in a soft felt bag to protect the paintwork.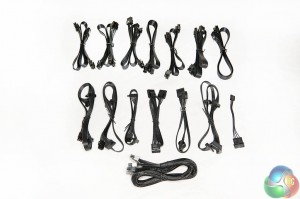 This power supply is a fully (pure) modular design, so no cables are hardwired into the chassis.
| | |
| --- | --- |
| Cable | Connectors |
| MB 20+4 pin | x1 (610mm) |
| CPU 4+4 pin | x1 (650mm) |
| CPU 8 pin | x1 (650mm) |
| PCI E 8 pin (6 pin +2) | x10 (600mm) |
| SATA | x14 (530mm+150mm+150mm) |
| MOLEX | x5 (550mm+150mm+150mm) |
| FDD | x1 |
The cables are high quality and the thinner 'ribbon' style which proves popular for routing (The main 20+4 pin MB cable is sleeved). There are no shortage of PCI-E connectors – 10 in total, making this an ideal power supply for high end Crossfire and SLi systems. There are 14 SATA connectors to suit a system with plenty of hard drives.