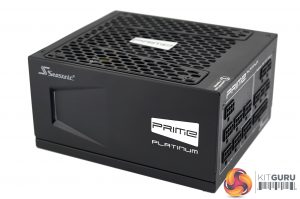 The Seasonic PRIME 1000W Platinum supply is a great looking power supply, but regular readers will notice that the fan grill section is missing the accented silver section which you can see HERE. The Titanium supply is therefore a little more dynamic looking.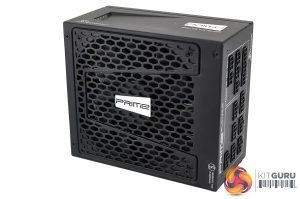 You can see the 'outline' close up actually of where the silver/chrome section would be fitted if this was a Titanium rated unit.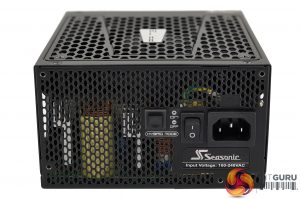 One side of the unit is home to a big cooling vent, with a power connector and switch at the side.
There is also a switch for Hybrid mode – allowing the fan to be disabled completely when the unit drops to a specific temperature threshold. Seasonic claim the Hybrid Fanless mode works up to:
Approximately 50 % (±5 %) of system load at 25 °C.
Approximately 30 % (±5 %) of system load at 40 °C.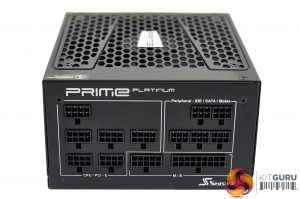 One side of the Prime Platinum is home to all the modular cabling connectors. The main M/B connectors are indicated along the bottom of the panel – clearly labelled. The Peripheral/SATA/Molex connectors are visible in a bank of two and three along the top right side. On the other side are all the CPU and PCI-e connectors in a row of 1, 3 and 2 from top to bottom (6 in total).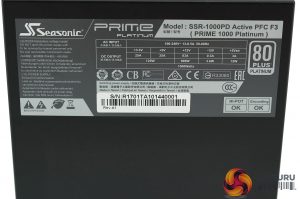 Above we can see the specifications of the power supply. The Model number is SSR-1000PD Active PFC F3
Seasonic PRIME 1000W Platinum Power Supply


DC Output

+3.3V

+5V

+12V

-12V

+5Vsb

Max Output

25A

25A

83A

0.3A

3A

Total Power
125W
996W
3.6W
15W
1000 Watts
This 1000W  power supply can deliver 83A on the +12V rail. Plenty of power on hand for a powerful SLI and Crossfire configuration.