The Seasonic PRIME 1000W Platinum power supply is clearly another success story for the company. The quality of the power delivery is exceptionally high and this unit exhibited no weaknesses at all in during our testing.
While efficiency is obviously down over the Titanium PRIME units that we reviewed last year, there is little to fault elsewhere. Seasonic haven't skimped on the quality of the build, opting for high grade 105c rated Japanese components throughout. The fact they raised their warranty terms from 10 years to 12 years recently shows the faith they are putting into their products.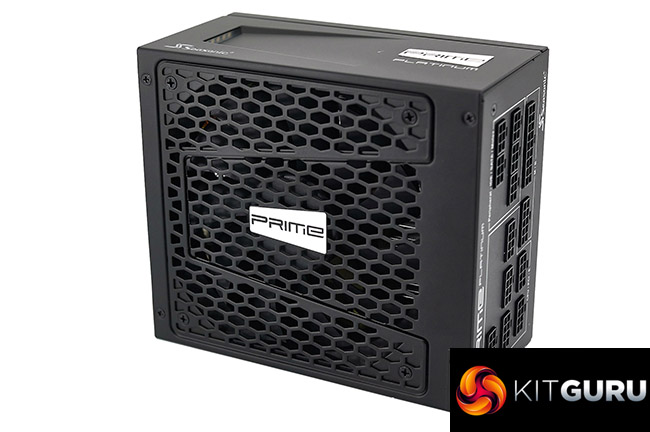 It may be a small point, but I did miss the silver 'N' shaped accent panel that is present on the Titanium grade units. Seasonic are using the same chassis, so you can see the placeholders were it is meant to go in the image above. Obviously if you have never seen a Titanium PRIME unit from the company you wouldn't know this, but to my eye this Platinum unit looked almost unfinished.
Internally Seasonic have stepped up to the plate, yet again. Ripple suppression is excellent, fan noise is very low, and power delivery is class leading. We were able to hold a 1175 watt extended load for many hours, without shut down, or instability. Over specifying a power supply is a Seasonic trademark, although it was interesting to see that the 850W PRIME Titanium unit has more powerful primary stage capacitors than this 1000 watt Platinum model.
The pure modular design will be welcomed by a large audience, and there are plenty of high grade cables to support a wide array of sophisticated system builds, including high draw SLI and Crossfire gaming rigs.

The Seasonic PRIME 1000W Platinum power supply is available from Overclockers UK for £219.95 HERE. These are expensive power supplies to sate the demanding high end enthusiast audience however they are noticeably cheaper than the Titanium PRIME counterparts.
Discuss on our Facebook page, over HERE.
Pros:
Superb Load regulation.
High build quality.
105C Japanese capacitors used throughout.
delivered 1200 watts.
High quality cabling.
Cons:
Expensive, although you get what you pay for.
We miss the silver/chrome accented panels showcased on the Titanium models.
KitGuru says: This 1000W Seasonic PRIME Platinum power supply is technically fantastic and worth the investment. Rest assured, with the new extended, class leading 12 year warranty, Seasonic are standing by their users.