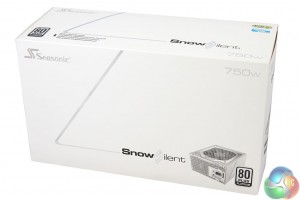 The packaging is very plain – obviously white, to match the design ethic of this unit. There is a small image of the power supply visible in the bottom corner of the box.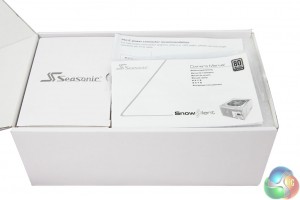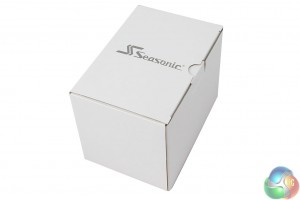 Inside the power supply is protected between thick foam panels. The cables are all stored in a cardboard box at one side of the box.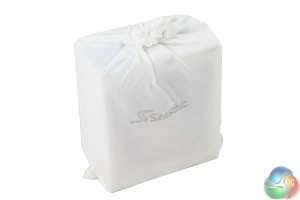 The power supply is wrapped inside a soft, white, felt bag.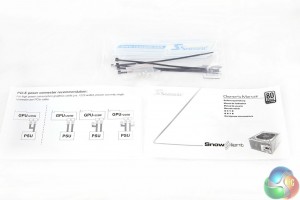 Seasonic bundle a user manual, cable ties, and mounting screws. They also include a reference sheet to help with cable connection to graphics cards. Basically if you are using a graphics card which takes more than 225watts under load then use two separate PCIe power cables rather than two headers on a single cable.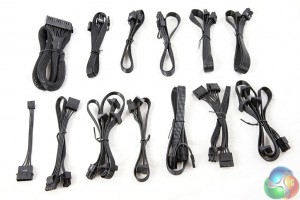 The main motherboard power cable is sleeved, however all other cables are the flat 'ribbon' style, which proves popular with system builders who have to route a plethora of cables behind a motherboard tray. The quality of all the cables is excellent.

| | |
| --- | --- |
| Cable | Connectors |
| MB 20+4 pin | x1 (610mm) |
| CPU 4+4 pin | x1 (650mm) |
| CPU 8 pin | x1 (650mm) |
| PCI E 8 pin (6 pin +2) | x4 (600mm) |
| SATA | x8 (530mm+150mm+150mm) |
| SATA | x2 (530mm+150mm) |
| MOLEX | x3 (550mm+150mm+150mm) |
| MOLEX | x2 (350mm+150mm) |
The cables are all high grade flat ribbon style to help with the routing phase of the system build. The main MB 20+4 cable is sleeved. There are a total of 10 SATA connectors, meaning this power supply is also ideal for a massive storage server system. Those running an SLi or Crossfire rig will be happy to note a total of four 6+2 pin PCI e connectors. The Snow Silent 1050W model has eight PCI e connectors.