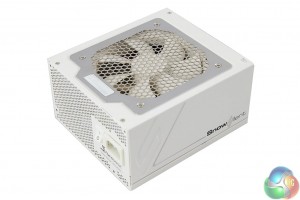 I said it back in December 2014, and my opinion hasn't changed since then – these are attractive looking power supplies. The lettering on the side of the power supply is actually black and silver.
There is a little silver accent (line) running across, and upwards on the side panels. These are stuck onto the side panels. We noted back in our review of the 1050W model that the silver sticker had torn a little. The sticker on the 750W unit was fully intact, which is good to see.
Paint quality is high, and it passed our screwdriver test. This involves running the head of a Philips head driver down the side of the chassis with light to medium force. After all, how many times have you accidentally connected with a power supply during a system build? Even if the power supply did scratch however, it is silver underneath so its actually almost invisible against the white paint – unless you study closely.

The Snow Silent measures 170 mm x 150 mm x 86 mm (LxWxH). The 1050W model is slightly longer – measuring 190mm.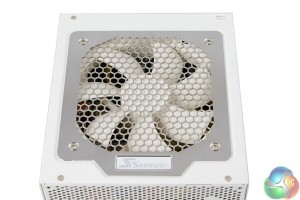 A large white (almost cream) fan is visible behind the grill. We will take a closer look at the fan when we open the housing up later in the review.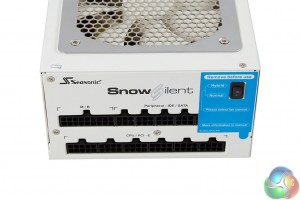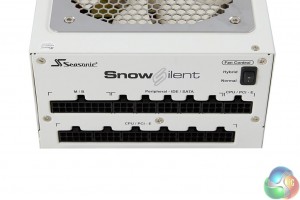 The modular panel is laid out with two rows of connectors. The main motherboard connector is situated top left. There is a fan control switch which alternates between 'hybrid' and 'normal' modes. The CPU and PCI-E connectors stretch across the bottom row, underneath the peripheral headers.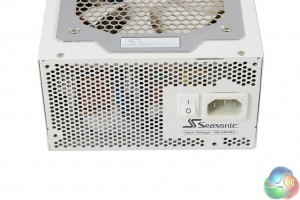 The other end of the power supply is vented, with a power connector and switch at the side.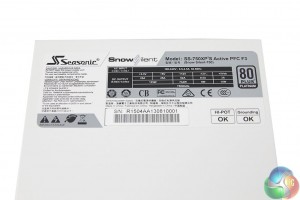 Above we can see the specifications of the power supply. Seasonic are classing this one as a 'XP2S' unit, the 1050W unit was classed as an XP3 model.
Seasonic Snow Silent 750W (XP2S)


DC Output

+3.3V

+5V

+12V

-12V

+5Vsb

Max Output

25A

25A

62A

0.5A

3A

Total Power
125W
744W
6W
15W
750W
This power supply can deliver 62A on the +12V rail. Plenty of power for a powerful SLI and Crossfire configuration. If you need more amps on the +12V rail, then the 1050W model can deliver 87A (with twice as many PCI E power connectors available).