The Seasonic Snow Silent 750W power supply is an eye catching design – clearly targeting the audience who not only demand a high quality power supply, but perhaps have a white Corsair or NZXT case with a window. It will look spectacular in front of white or blue LED lighting.
Technically this unit is very proficient and it doesn't exhibit any alarming issues. We wouldn't expect Seasonic to cut corners and we are glad to say they have not. They have recently started adopting large fluid dynamic bearing fans and this has helped to reduce noise levels a little over their older designs. No one is likely to complain about that.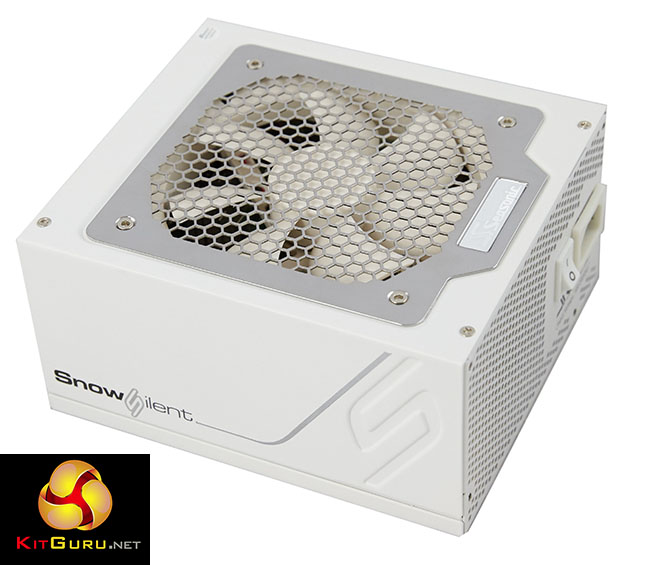 Our real world testing verified that the supply was able to successfully power a high end gaming system, incorporating a 4790K and two GTX980 graphics cards. It was actually capable of sustaining a 850 watt load for many hours, although if you need this kind of power delivery on a regular basis we would advise opting for the more expensive 1050 watt unit. Ideally you would want to be running between 40-70 percent load to achieve maximum efficiency, and cooler running temperatures. If you can afford it, a 1250Watt unit would even make sense for a sustained 850Watt load.
Many 750 watt power supplies adopt a single capacitor for the primary stage, but Seasonic have opted for two 105c Japanese Nippon Chemi Con capacitors. At 750 watt load this power supply is actually not tasked close to its absolute limit – an intelligent design by Seasonic as this will reduce long term component failures.

Technically we rate the XP2S and XP3 supplies as class leaders. They produce stable levels of power, and are over specified intentionally for their respective classifications. Ripple suppression is excellent, load regulation is stellar, and overall efficiency is extremely high. The pure modular design, super build quality and high grade cabling will appeal to the enthusiast audience who want to be sure they are giving their system quality power.



As we publish today we have no pricing information for the Seasonic Snow Silent 750W power supply but as the 1050W unit is priced around £199.99 inc vat, we would take an educated guess at a price around the £150 inc vat mark. We will update this page with more pricing information as soon as possible.
Discuss on our Facebook page, over HERE.
Pros:
built to exacting standards.
quality paint work.
pure modular design.
low noise fluid dynamic bearing fan.
7 year warranty.
rock solid.
Cons:
the white colour won't suit every system build. GunMetal Silver next?
Kitguru says: Another quality design, to slot in below the high end 1050 watt model.