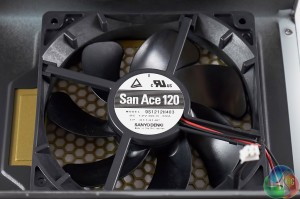 Seasonic are using a San Ace 120 (Model 9s1212h403) fan (Sanyo Denki). This is a high grade 120x120x38mm model, which operates at 12V.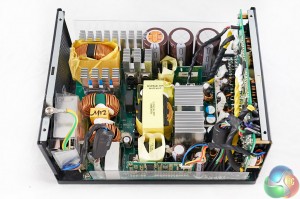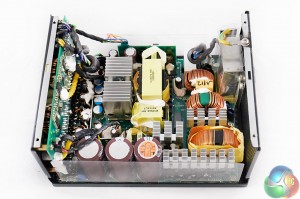 The Seasonic DC to DC convertor design is very clean with several rows of heatsinks separating the components. These may seem small, but with 80 Plus Gold Efficiency and the large overhead fan, there should be no ambient temperature problems.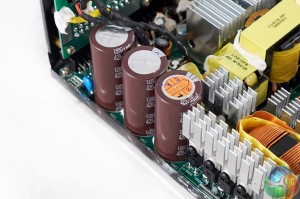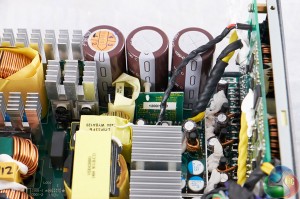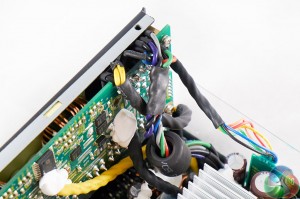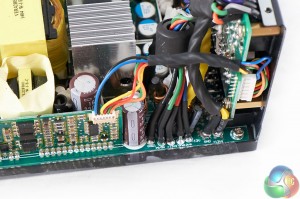 The Seasonic X-Series 1250W power supply utilizes high quality Japanese capacitors throughout with the primary stage using three high quality Nippon Chemi Con capacitors rated for 105c operation @ 420v 390uF. We can also see the transient filtering with the Yunpen EMI filter. This continues to the main PCB with two coils, four Y capacitors, two X capacitors and an MOV.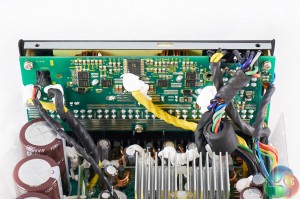 The design of this unit replaces traditional wired connections with direct pin to port connections. This reduces the heat generated by the wiring which has the subsequent benefit of reducing lost power, ensuring improved voltage. The unit includes Total Power Protection (OPP), Over Voltage Protection (OVP), Over Current Protection (OCP), Short Circuit Protection (SCP), and Over Temperature Protection (OTP).