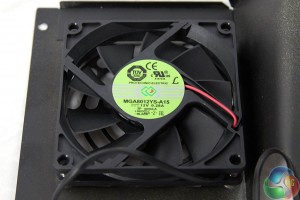 The 80mm fan is made by Protechnic Electric with part number MGA8012YS-A15. This fan is rated 12V 0.28A. Little information can be found online although some investigation would indicate that fan speed peaks at 3,800 rpm. We do hope it doesn't spin close to this speed, as it will likely be rather loud, given the small physical dimensions.

This Active PFC power supply is an FSP OEM design for SilverStone. I thought initially this might be an active clamp with group regulation configuration. There is a DC to DC daughterboard shown close to the bunch of hard wired cables. The two primary capacitors are rated 420V 150uF and secondary stage capacitors are rated 105c which is good to see, especially in such a space restricted design. General soldering quality is decent, if unremarkable.
The SST-SX550 has Over Current Protection, Over Power Protection, Over Voltage Protection, Short Circuit Protection and Over Temperature Protection.