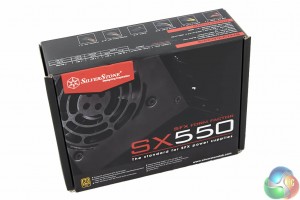 The SilverStone SST-SX550 box artwork shows a close up of the fan grill, at an angle. The product name is clearly listed bottom right at the front of the box.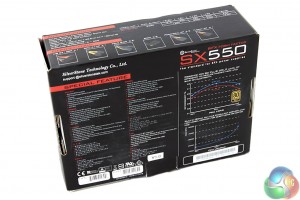 The rear of the box lists some technical data including PSU load and fan speeds under load. SilverStone are clearly focusing on noise levels, given the diagrams on the box.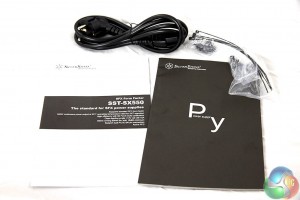 Inside the box is a user manual, cable ties, mounting screws and a regional specific power cable.
Connectors:
1 x 24 / 20-Pin motherboard connector(300mm)
1 x 8 / 4-Pin EPS / ATX 12V connector(400mm)
2 x 8 / 6-Pin PCIE connector("400mm / 150mm" x 2)
3 x SATA connector(300mm / 200mm / 100mm)
2 x 4-Pin Peripheral connector(300mm / 200mm)
1 x 4-Pin Floppy connector(300mm / 200mm / 200mm)
Cable quality is good, they are all sleeved – although not completely into the chassis itself, as seen in the images above. They include two 6+2 pin PCI connectors to handle one or two graphics cards.