The Silverstone SST-SX550 is a high quality SFX power supply created for specific space restricted chassis designs. It is reasonably priced around the £70 point, and is capable of delivering a sustained 620 watts when pushed hard.
While it is beneficial to buy a power supply that is fully modular, it is clear Silverstone are trying to keep the price point down, without compromising too much on quality. It may be a little more work routing all the cables out of sight, but it isn't a critical, deal breaking issue.

The quality of the paint work is very good, and its a rather inoffensive monochromatic design suited to fit into any system build.
Technically, the unit is capable, if unremarkable. Load regulation is solid, and the SST-SX550 passed our cross load test without an issue. Ripple suppression is pretty good, as is the efficiency for an 80 Plus Gold rated unit.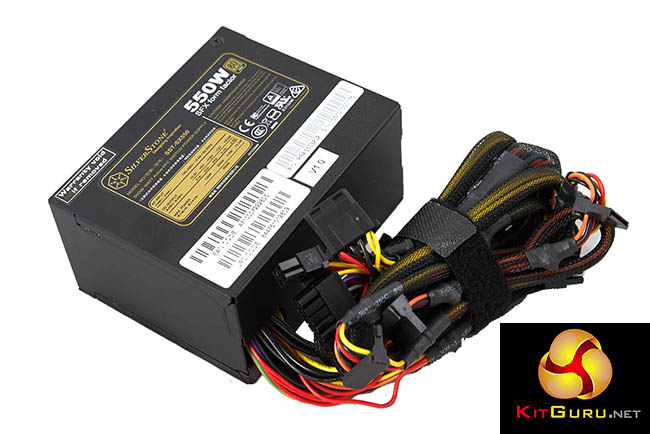 The single +12V rail is powerful (rated to 45A), and capable of handling a demanding graphics card for a gaming system build. There will be no problems using the SX550 at the heart of a new GTX1080 based gaming system.
My only real concern is the operation of the small 80mm fan under duress. When load hits above 400 watts, it has to spin up to ensure there is adequate air flow throughout the chassis. At close to 500 watt demand, it is clearly audible and somewhat annoying. SilverStone have decided to only fit the larger 92mm fans in their more expensive SX500-G and SX650-G models.
That said if you know the load of your system is closer to 300/350 watts (and many are), then it won't be such a problematic issue long term. These load demands will also help achieve closer to optimum efficiency.
The SilverStone 550 W SST-SX550 is available today from Scan in the United Kingdom for £71.46 inc vat HERE.
Pros:
good price point at £70 in the UK.
quality finish.
technically capable unit.
45A via the single +12V rail.
Cons:
80mm fan can get loud if the supply is pushed harder (over 400 watts).
cable sleeving doesn't go into the chassis itself, stopping short.
Kitguru says: The Silverstone SST-SX550 is a well priced and capable unit. I would prefer a 92mm fan rather than 80mm, but unless you need to drive a constant 400 watt+ load, its not too much of an issue.