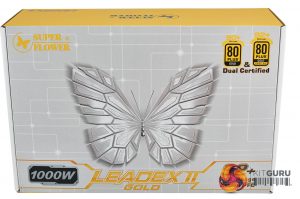 The Super Flower Leadex II 1000W is supplied in a rather bright, somewhat gaudy looking yellow accented box featuring their logo – which is a butterfly. I would much rather see a nice high resolution image of the product itself, but there you go.

It is worth pointing out that Super Flower highlight the Dual Certification top right of the box. They offer 90% and 92% Gold efficiency for both 115V and 230V regions respectively.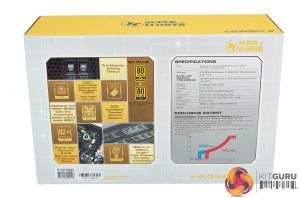 The rear of the box is loaded with information on the power supply, including the ECO Thermal Control System, the full modular cabling, 100% Japanese capacitors and info on the power delivery capabilities 'Additional real 150W-200W solid  and sustainable power output under 230V). So in theory Super Flower are claiming this is a 1150W/1200W power supply in disguise! We will test that out later in the review.
Inside the main box is a soft bag of modular cables, a user manual, a white storage pouch, mounting screws and some additional literature.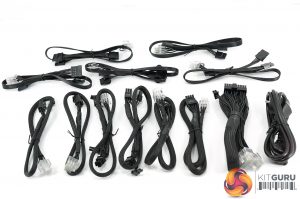 The bag of modular cables is fully loaded, as can be seen above. Some of the cables are sleeved (main ATX, CPU and VGA), and some are the flat 'ribbon' style (peripherals) for easier routing. All of the cables are 18AWG and 20 AWG.
Connectors:
– 1x 20+4-Pin ATX12V/EPS12V
– 2x 4+4-Pin ATX12V/EPS12V
– 6x 6+2-Pin-PCIe
– 12x SATA
– 4x 4-Pin-Molex
There are no shortage of cables to support a high end system build. There are six 6+2 pin PCIe cables to cater for high end dual and triple SLI or Crossfire configurations.