The Super Flower Leadex II 1000W is a very competent update over the original platform. I have yet to review a weak release from the company and they do honestly continue to impress me.
Technically there is little to fault. The ripple suppression results stand out as class leading and the quality of the voltage rates as excellent. It also passed our Cross load test with flying colours, exhibiting tight regulation when pushed into tricky load situations.

This unit has received two 80 Plus Gold Certifications one at 230V ( Europe/UK) and the other at 115V (USA). Fortunately, the unit excelled in our efficiency tests, well above the 92% peak rating associated with Gold certification. We actually measured 93.2% efficiency at around the 50% load mark.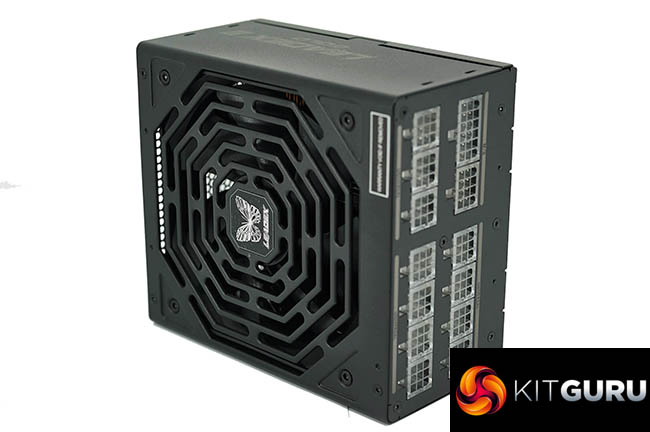 Ultimate power delivery is another area that impressed me. We managed to extract close to 1200 watts (1183W) from the unit before it shut down safely. This is a very highly overspecified design, often a strategy adopted by Seasonic and sure to help reduce RMA costs as well over time.
The adoption of high grade 105 rated Nippon Chemi Con capacitors and a very careful design by Super Flower delivers some class leading Ripple Suppression figures (and I don't say that lightly!). It is not often we measure only 20mV from the +12V output under full load conditions.
The only fault I can really find with this unit is the 135mm Globe Fan they are using. Above 500 watts load it spins up rather quickly and emits a rather unpleasant pitch. I also think when the fan is in the active mode that it is spinning a little faster than it needs to which doesn't aid overall noise emission levels. I know noise is subjective and that everyone will have a different opinion, but several people I asked for a second opinion did say that they heard the fan in a similar way, with a somewhat annoying pitch clearly audible over several case fans. I would advise those looking for an ultra quiet power supply to look at other options on the market.

You can buy the Super Flower Leadex II 1000W from Overclockers UK for £179.99 inc vat HERE.
Discuss on our Facebook page, over HERE.
Pros:
high standard of build quality.
very high efficiency levels.
LED lights on connectors (which you can turn off).
ECO fan mode
Great voltage regulation
class leading efficiency levels.
Cons:
Fan noise can be intrusive.
KitGuru says: The Super Flower Leadex II 1000W is a remarkable power supply however we do feel the fan choice lets the package down, as it gets intrusive as the speed increases.