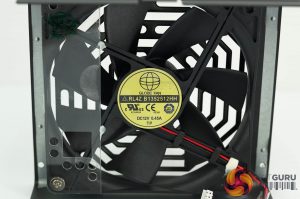 Super Flower are using a 135mm Globe branded fan (Model B1352512HH). This is a dual ball bearing fan design for reliable operation and decent longevity. I have previous (less than impressive) experiences with this particular fan and it can get loud if it has to work hard. In ECO mode the fan will stop spinning at lower loads below 60c.

Super Flower Leadex II 1000W 80 Plus Gold Gallery
Soldering is good throughout the design and we noticed no major issues of concern.
The topology of this Super Flower Leadex II power supply is half bridge with resonant convertor LLC – switching to zero voltage (ZVS). This design helps reduce energy loss in the primary Mosfet subsequently enhancing efficiency.
In the secondary stage Super Flower have used synchronous rectification based on a DC to DC topology. The +3.3V and +5V output is generated by two PCB's mounted to the main board.
Close to the input fuse is the filtering stage which consists of a MOV, Four (ceramic) Y Caps, Two X Caps and two ferrite coils. The filtering stage continues with two more Y caps and another X cap.
The primary stage is served by two 105c rated Japanese Nippon Chemi Con Capacitors (KMR Series) – both rated 470uF 400V for a total of 940uF.