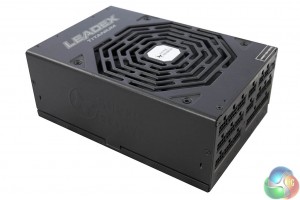 The SuperFlower Leadex Titanium 1600W is big, measuring 150 x 86 x 220mm (WxHxD). Selecting a compatible case is very important. The matt paint work is nice and rough to the touch and doesn't attract fingerprints easily.
The finish of the chassis is superb. It passed our 'screwdriver' test without a problem. This involves running the head of a Philips head driver down the side of the chassis with light to medium force. After all, how many times have you accidentally connected with a power supply during a system build?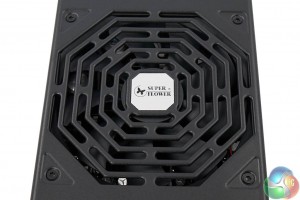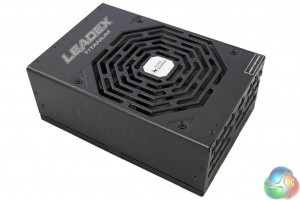 The large fan is hidden underneath the thick grill air flow system, which is cut into the chassis itself. The Super Flower logo takes pride of place in the middle of the fan section. We will take a closer look at the fan shortly.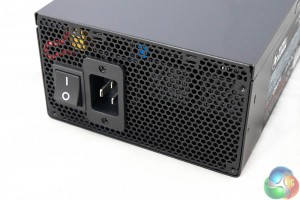 One side of the power supply is vented to help airflow. There is a big power cable and switch at one side.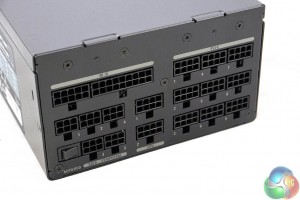 There are plenty of connectors on the modular bay panel on the other end of the chassis. Each section of the modular bay area is labelled to explain which cables to use. There is a AUTO/ECO button in the corner as well to reduce fan noise.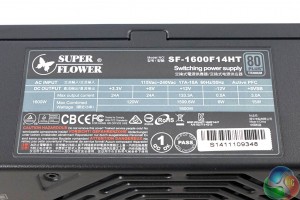 SuperFlower Leadex Titanium PSU 1600W

DC Output

+3.3V

+5V

+12V

-12V

+5Vsb

Max Output

24A

24A

133.3A

0.5A

3.0A

Total Power
120W
1599.6W
6W
15W
1600W
The single +12V rail can deliver 133.3A which is a crazy amount of power! With this kind of juice on tap there would be no problems powering even two overclocked AMD R9 295X2. Our previous review of the OverclockersUK Infinity Vesuvius system highlighted that two R9 295X2 cards could demand close to 1,200 watts under load.