Gigabyte's Z170-Gaming K3 motherboard has done a lot to impress us when you keep the price point of £95 in mind. For the feature set on offer, the selection of connectivity and the quality of audio and networking hardware, it's a commendable achievement that Gigabyte is even able to offer this motherboard at its current price. It certainly lacks some of the pizzazz and wow-factor of Gigabyte's higher-end offerings, like the Z170X-Gaming 7, but it still carries all the fundamentals required for an excellent Skylake gaming experience and makes up for any shortfalls with its competitive price point.
The Gaming K3 does have some shortfalls that prospective buyers will need to consider, it's not a perfectly executed motherboard. We found the number of USB ports to be a little wanting, 6 USB 3.0, 2 USB 3.1 and 4 USB 2.0, that's 2 to 4 less than some other entry-level gaming motherboards – an extra pair of USB 2.0 ports in the rear I/O area would have been great to see. There's also no USB Type-C, again this isn't a deal breaker, but something worth keeping in mind.

Moving onto the aesthetics and we have found the dark brown PCB to be a bit of a let-down, sure the board makes up for this in many other areas but many people "buy with their eyes". We feel that a black PCB would be worth the additional investment, glossy or matte. There are also some other minor layout niggles, such as the fact some of the SATA ports are vertical and others are right-angled, or that the 24 pin and USB 3.0 header are offset from the edge of the motherboard PCB to make room for the LED strip.
The lack of SLI capabilities is another notable omission but we'll reiterate again that for the price point it's a sensible decision and most budget PC builders are unlikely to ever utilise an SLI setup.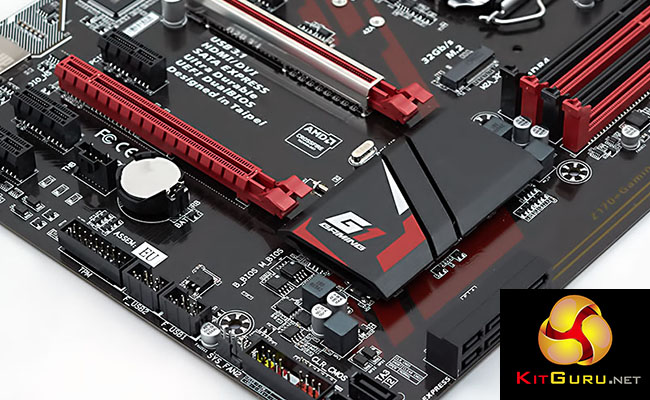 The Gigabyte Z170-Gaming K3 covered all other bases well – it overclocked strongly despite the middling 7-phase VRM, performed well across all our benchmarks and offers all the key connectivity standards like USB 3.1, 32Gb/s M.2, DDR4 SATA Express and quality Gigabit LAN. Gigabyte's UEFI is cleanly designed and intuitive to use, we also appreciate the fact Gigabyte include two BIOS chips for redundancy to insure against a BIOS chip failure. Gigabytes software is a little more unified, through App Center, and simpler to use than some rival software options.
Assessing the overall package on offer it seems that the Z170-Gaming K3 best targets DIY system builders and PC Gamers who have a reasonably tight budget, but still want to take advantage of Intel's latest Skylake platform. You'll be hard-pressed to find an equivalently spec'd motherboard for the same price, though there are better motherboards available at higher price points. Relating back to the original starting point of this review, the Z170-Gaming K3 is a great board for maximising the budget available for a better graphics card or gaming peripherals, without sacrificing on key features or system performance.

Buy from Overclockers UK for £95.99 inc vat HERE.
Discuss on our Facebook page over HERE.
Pros:
Highly competitive price
Unified software package and intuitive UEFI
Strong performance and overclocking
Includes all Skylake's new connectivity standards (USB 3.1, M.2 NVMe, DDR4)
Bright and controllable red LED lighting
Cons:
No SLI support or USB Type-C
Some design quirks (dark brown PCB, loosely secured CPU heatsinks, questionable port placements)
KitGuru says: Gigabyte's Z170 Gaming-K3 is another strong contender in the affordable motherboard space. If you have about £100 to budget for a gaming motherboard, this is arguably one of the best options available.