The packaging for the Strix Raid DLX immediately stands out thanks to the Owl logo that Asus has become well known for over the last year. On the back of the box, you will find a run down of all the features and specifications on offer with this sound card.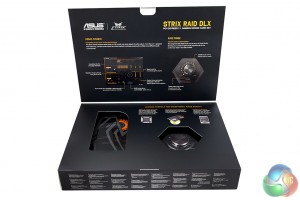 Opening up the flap on the front will give a peak at the sound card itself and the volume control box, which you can place on the desk for easy access to the headphone jack and microphone input without reaching around to the rear I/O on the system.
While Asus does win points for style with its sound card shroud, don't be fooled into thinking that it is only there for looks. The shroud also acts as an EMI shield, to help protect against interference from other parts in your system. The owl eye does light up while switched on, though this can be easily missed as you won't be looking at the front of the card when it is installed in the system.
The card slots in to a PCI slot on your motherboard but it also requires an extra 6-pin power adapter, so keep that in mind, particularly if you like to plan out cable management.
The shroud can be taken off easily by removing a few screws. Underneath, you will be greeted by a complex array of components, capacitors and PCB traces. Asus has put a lot of detail in to its PCB design, for starters, the analogue, digital and power sections have no cross-over, which helps avoid interference. There is also two layers of ground in place to help separate signals and avoid inferences.
Asus has used the CM6632AX audio processor and ESS ES9016 DAC for this sound card, which has an industry-leading 124 dB signal to noise ratio and will help provide a superior audio experience compared to on-board solutions. There is also the LME49600 600 ohm headphone amplifier, which will help provide much more detailed, clearer sound.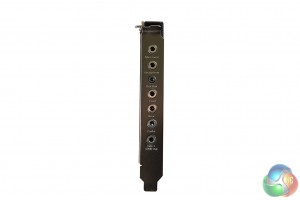 The rear I/O includes the following connectors (in order from top to bottom):
Mic/Line In
Headphone
Box Link (Black)
Front
Rear
Center
Side+SPDIF Out.
Asus has also included a control box, which will save you from reaching around the back of your PC to plug your headphones in whenever you want to use them. It's a pretty good looking accessory to have, which is great since it will likely be sitting on your desk close to your mouse and keyboard. The volume wheel on top is clickable, so you can swap between headphones or speakers with ease and control volume for both. There is also a handy button to activate RAID mode, which allows you to activate the Bass Boost, Microphone volume, EQ or Virtual surround sound options. You can only bind one of these to the RAID button at once so diving in to the software is still necessary to tweak the other options.
On one side of the box you will find a headphone and microphone input, while on the other side you will find the Box Link connector, which links back to the sound card.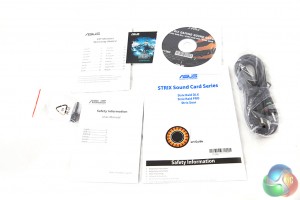 Finally, the last few bits you will find in the box are the software disc, warranty and set up guides and your Box Link cable for the volume controller.