In order to test the Asus Strix RAID DLX sound card, I'll be using the Bowers and Wilkins P7 headphones which retail for £299.99  inc vat on Amazon. I will also be taking a look at the Sonic Studio software that Asus provides for additional features.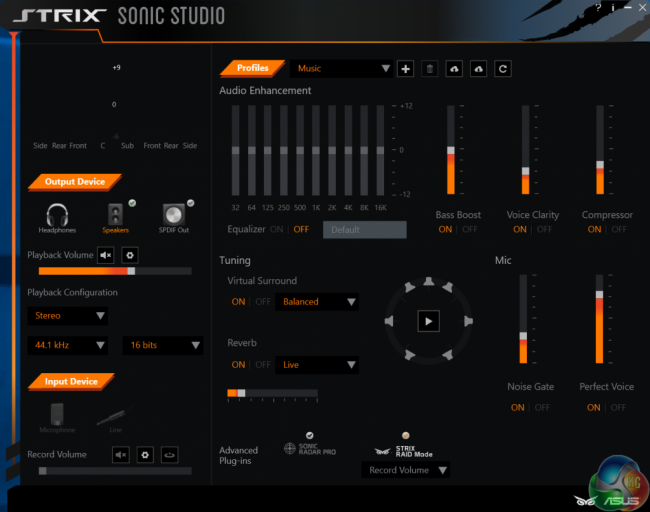 The Sonic Studio software is easy enough to navigate. You can find all of the options on one window, with access to your surround sound options, volume control, EQ effects, Reverb, Bass Boost, Compression and a vocal booster. Microphone users can also set up a noise gate, which will help block out background noise, something that mechanical keyboard users will find useful.
In addition to being able to tweak sound settings you can also save different profiles. This feature is particularly useful as I don't necessarily want to use surround sound while listening to music. That said, I do enjoy the effect in games or while watching movies. There is also a cloud saving feature for profiles, so if you need to do a reformat or you are building a new PC, you can re-download your previous preferences easily.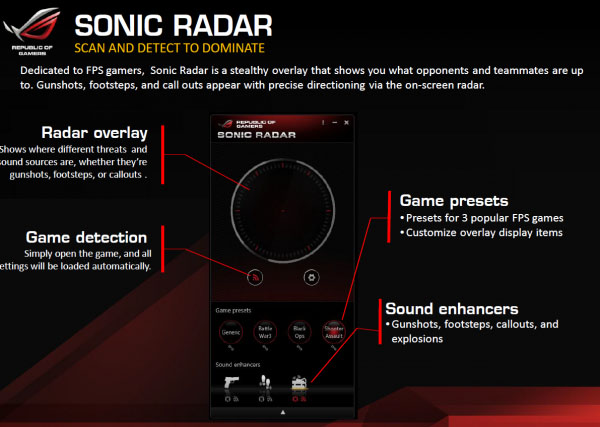 Asus has also included an advanced plugin known as Sonic Radar, which is used to enhance audio positioning. The effect will place a semi-transparent radar on your screen and show the direction sound is coming from. In games with lots of music, this may not be so useful but in competitive shooters, it could provide an edge.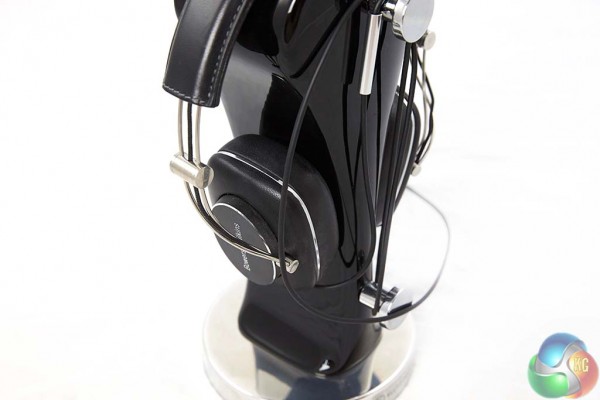 I have had the STRIX Raid DLX sound card installed in my system for over a week now. In that time, I have tested a decent selection of games, including Counter-Strike: Global Offensive, Grand Theft Auto V and The Witcher 3: The Wild Hunt. While this is a gaming sound card, many users will likely be listening to music and watching movies as well, so I will also be discussing that.
For gaming, the big feature here will be the virtual surround sound, which uses audio positioning techniques to trick you in to thinking that sound is coming from multiple directions. Not everyone is a fan of virtual surround, particularly since a pair of headphones can't truly live up to a 7.1 speaker system due to physical limitations. That said, I find virtual surround sound particularly useful in games, especially competitive shooters, where listening out for footsteps can be key.
I found the audio experience to be particularly immersive across other titles as well. While I have played a lot of The Witcher over the course of this year, I didn't find myself truly appreciating the sound design until now. The STRIX DLX makes audio come through much clearer than the on-board audio found on my motherboard, so much so that I could appreciate the finer details, like the echo of the caves, or the clunk of Roach's hooves on the ground. To sum up, if you are after a stellar audio experience for gaming, you will find it here. People who claim that most onboard audio is identical have clearly never heard a high end sound card paired up with a quality pair of headphones.
This trend of stellar audio reproduction carries over in to music. I immediately noticed that tracks were significantly less muddy while using this sound card, on top of that, it really helped me get the most out of the Bower and Wilkins P7 headphones, with a punchier, tighter bass response.
The Asus STRIX RAID DLX is capable of playing back 44.1 kHz, 96 kHz and 192 kHz playback, so those who like to listen to high-grade or lossless audio files will be able to listen to them as intended.
There is one more thing worth pointing out about this sound card- it makes an excellent companion for a microphone as well. If you happen to do any recording, the ability to control your microphone, set up a noise gate and enhance vocals through software is a great inclusion.