Marvell this week introduced its new controller that will power next-generation ultra-high-performance solid-state drives with PCI Express 3.0 or SATA Express interfaces. The controller also supports non-volatile memory express (NVMe) 1.1 specification and can support not only consumer, but also server-class SSDs.
The Marvell 88SS1093 NVMe controller with three processing cores supports up to four PCI Express 3.0 lanes and thus can enable SSDs with 2GB/s – 4GB/s of bandwidth along with unparalleled IOPS performance using the NVMe advanced command handling. The controller fully supports separate reference clock with independent spread spectrum clocking architecture (SRIS) technology for PCIe 3.0 data-rates, an industry's first.
The new 88SS1093 controller supports different types of NAND flash memory, including the up-to-date and the upcoming 15nm TLC/MLC/SLC and 3D NAND chips. The chip features the company's latest NANDEdge LDPC error correction control and management to make SSDs more reliable and durable. The controller can enable SSDs with up to 2TB of capacity.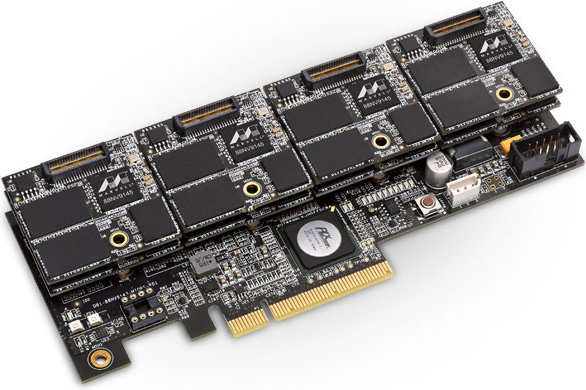 A reference Marvell-based PCIe SSD. Image for illustrative purposes only.
The Marvell 88SS1093 SSD controller is made using 28nm process technology. It also supports new low-power management(L1.2) design as well as M.2/2.5 slim form-factors, which means that it can power very different SSDs.
The 88SS1093 is currently sampling to leading customers. Marvell believes its NVMe SSD controllers will be an ideal solution for next generation of high-performance SSD for client platforms coming in 2015 as well as today's hyperscale data center applications.
"I am very excited to see that our new SSD controller solution has once again raised the technology bar with superior performance, high reliability and robust security," said Weili Dai, president and co-founder of Marvell. "I am very proud of our close collaboration with leading tier one OEM and ODM partners around the world in enabling the rapid growth of the SSD market from client devices to data centers and enterprise systems."
Discuss on our Facebook page, HERE.
KitGuru Says: It looks like next-year's SSDs will offer simply unprecedented performance: up to 2TB capacity, up to 4TB/s bandwidth along with improved reliability and durability. The prices are unknown, but thanks to TLC and 3D NAND types of flash memory they should not be too high.