Traditionally companies like Asustek Computer and MicroStar International were focused on designing competitive mainboards, graphics cards and other computer components. However, in the recent years the DIY market began to stagnate, which is why the manufacturers started to look at alternative revenue sources. Recently Asus and MSI began to concentrate on own-brand desktop systems.
Asustek started to aggressively pursue branded desktop sales in the second half of 2013, looking to acquire some orders from the enterprise market, which is enjoying a strong replacement trend, reports DigiTimes web-site. In addition, Asus has entered the market of gaming desktops, which may have an impact on its components businesses. The company shipped two million desktops in 2013 and intends to ship 20 million PCs in 2014. The company's long-term plans include shipment of 50 million PCs five years from now.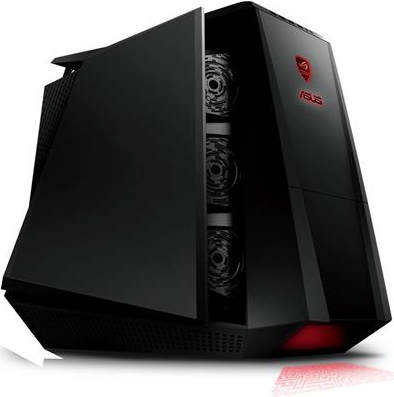 MSI has also entered the markets of gaming desktop PCs, gaming notebooks, gaming all-in-one PCs and even small form-factor barebones. Asrock and Gigabyte have also increased focus on SFF systems after Intel introduced its NUC concept several years ago.
In early-2000s – mid-2000s many PC component makers offered SFF PC barebones, systems with pre-installed mainboard, PSU and some other components that lacked microprocessor, memory, storage, operating system and so on. Shuttle was among a few companies, which were successful with such personal computers, many others just had to leave the market.
Nowadays the situation is significantly different. Asus and MSI offer fully-fledged systems with pre-installed Windows operating system, which increases their risks, but allows to sell their PCs in mainstream stores, thus targeting a broad audience of potential customers. Essentially, companies like Asus, MSI, Gigabyte and other want to become real competitors for companies like Acer, Dell, Hewlett-Packard, Lenovo, and others. Moreover, by selling their own-brand PCs Asus and MSI essentially compete against their own customers, who buy their components,
Asus, Gigabyte, MSI and other aforementioned companies did not comment on the news-story.
Discuss on our Facebook page, HERE.
KitGuru Says: It is an open question whether Asus, Gigabyte and MSI will truly be able to become significant players in the markets of gaming desktops. Companies like HP or Lenovo know how to address the volume markets, something that many other companies are not ready to do. Meanwhile, local PC makers know exact demands of their customers and can offer things like personalized services as well.