Over the years, the SSD market has become very saturated, with a ton of companies all competing for market share. However, it looks like we have three clear standouts based on global sales from 2016, with Kingston and Samsung  making up the two top SSD sellers worldwide.
According to statistics put together by Forward Insights, a collection of 'other' companies claimed 30 percent of the global SSD market in 2016. Meanwhile single companies have been clamouring for the rest of the market share. Samsung currently claims a 21 percent share of the market, followed closely by Kingston with 16 percent. From there, other SSD makers have found themselves with single digits worth of market share, meaning Samsung and Kingston have really separated themselves from the pack.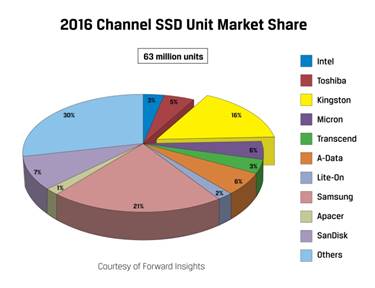 According to the analysts, a total of 63 million SSDs were shipped worldwide last year, with Kingston accounting for around 10.1 million units. This shows that Kingston has secured itself a place at the top of the SSD market, with 16 percent of overall sales.
Speaking about this level of growth, Tony Hollingsbee, Kingston's SSD business manager noted that the company's channel partner relationships have gone a long way to helping the company grow its SSD business, since its first drive shipment back in 2009.
KitGuru Says: It looks like Kingston has secured itself a position as a global leader in the SSD market, rivalled only by Samsung. How many of you are currently running a Kingston SSD?  Have you been happy with it?
This post has been updated to correct an earlier claim that Intel held 30 percent of the SSD market. It turns out I got the shades of blue on the chart mixed up. I apologise for the confusion.