Samsung has been on a bit of an SSD-binge over the last week. We've seen the launch of the new 860 EVO and PRO series drives and now today, the electronics giant has announced its first Z-SSD product, the SZ985, sporting Z-NAND memory, Samsung's competitor to Intel's 3D XPoint memory technology.
The SZ985 is a high performing NVMe SSD built for the enterprise market specifically. Using Z-NAND chips, Samsung aims to provide ten times higher cell read performance compared to 3-bit V-NAND chips, which feature on the company's consumer-grade SSDs. Z-SSDs also come equipped with 1.5GB LPDDR4 DRAM and a 'high performance' controller, all of which combined can deliver up to 1.7 times faster random read performance compared to V-NAND equivalent SSDs.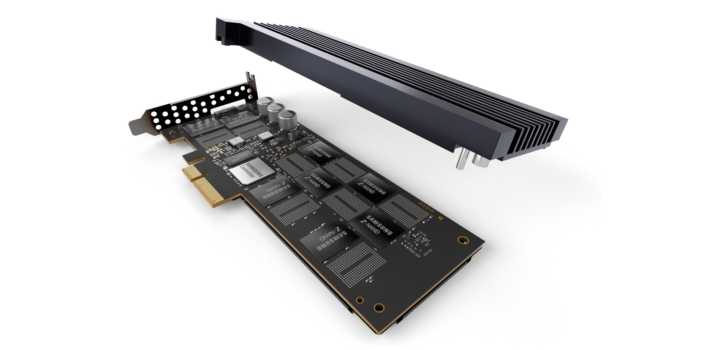 Reducing latency has also been an important point, with the 800GB Z-SSD reducing write latency to 16 microseconds, five times less than the NVMe SSD PM963.
Given that these Z-SSDs are aimed at the enterprise market, they need to be long-lasting, so Samsung guarentees up to 30 drive writes per day for five years, or a total of 42 petabytes. This translates into storing around 8.4 million 5GB full-HD movies over the course of a five-year period. The meantime between failures (MTBF) is listed as two million hours, which sounds good on paper, but unfortunately isn't a great way of describing SSD life as we don't know what workloads Samsung put the SSD under to arrive at that figure.
In any case, Samsung's new Z-SSD line will come in 800GB and 240GB variants. It should deliver random read performance of 750K IOPS and random write performance of up to 170K IOPS. Pricing was not disclosed, but that isn't too surprising given that this SSD is intended for huge data centers.
KitGuru Says: Samsung has been delivering a lot of SSD news lately. We've already seen a chunk of what consumers can expect with the 860 Pro and EVO drives (which we happen to have reviewed already), now there is also something out there for the enterprise folks.