Western Digital has been expanding into the SSD market throughout 2016 and it looks like the company wants to take things even further this year as this week, WD unveiled its first ever PCIe SSDs at CES, expanding the current lineup which already includes WD Green and WD Blue branded SATA SSDs. These new PCIe SSDs will fall under the WD Black name, making them recognisable as the fastest the company has to offer for now.
The WD Black PCIe SSD uses Gen3 x4 NVMe technology, which is capable of providing sequential read speeds up to three times faster than traditional SATA solid state drives. This particular drive will come in two capacities- 256GB and 512GB, making it a great option for an ultra-fast boot drive, or as secondary storage.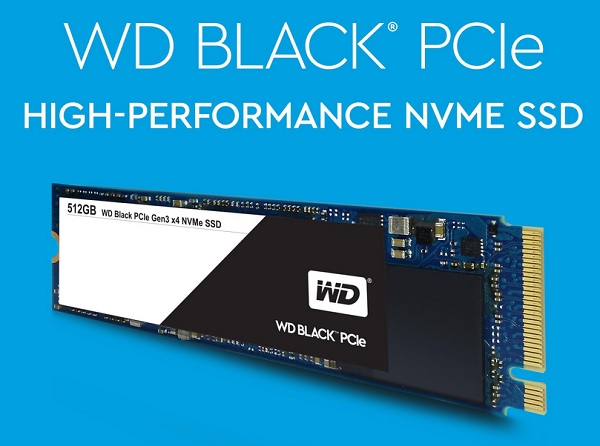 You can expect some pretty fast performance here too, with the WD Black PCIe drive rated for 2050 MB/s sequential read speeds and 800 MB/s sequential write speeds. As far as reliability goes, this drive is rated to last for 1.75 million hours of use. Western Digital has also developed new thermal and power management methods aimed to provide more consistent performance and lengthen the drive's lifespan.
Pricing is fairly reasonable too, the new WD Black will start at $109.99 for the 256GB version and $200 for the 512GB version. Both come with five-year warranties and will be available to purchase within the next few months.
KitGuru Says: WD Black drives have been a personal favourite of mine for mass storage/game installs for a while now. That said, these drives would make much more sense as a boot drive due to the smaller capacities. Are any of you thinking of upgrading to a faster PCIe-based SSD this year? I'm a little tempted to make the upgrade from SATA myself.