KitGuru reviewed the Intel 730 Jackson Ridge Solid State Drive back on March 6th, and there was a lot of interest in the review. Since then Intel sent us over two more 730 drives and today we supplement our original findings by adding some RAID 0 results.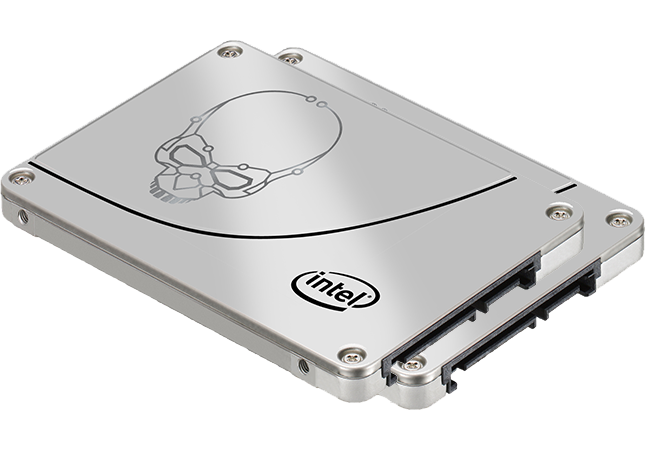 As we covered in the earlier review the new 2.5 inch Solid State Drives use a specially qualified 3rd generation Intel controller, the same 20nm NAND flash memory that was used in the S3500, alongside an optimised firmware. Intel have overclocked the controller by 50% and the NAND bus has been tweaked by 20%.
Intel have released the 730 in 240GB and 480GB capacities and there is quite a difference in rated write performance between the two units.
Sustained Sequential Reads / Writes
240GB: up to 550 / 270 MB/s
480GB: up to 550 / 470 MB/s
Today we put two of the 240GB drives into a RAID 0 configuration and see how the performance scales. The 240GB is significantly slower than the 480GB version when looking at sequential write performance – down from 470 MB/s to 270 MB/s. Read speed is the same, rated at 550 MB/s.
730 SSD 4K IOPS performance is rated at 86,000 read and 56,000 write for the 240GB model and 89,000 read and 74,000 write for the 480GB model. Again the 240GB unit suffers a noticeable performance penalty.
The new 730 Solid State Drive is based on the Intel PC29AS21CA0 controller which is found inside the Intel DC S3500 and S3700 products. Both of these drives are designed with the server market in mind, delivering consistent write performance. The higher cost S3700 has been designed specifically to deal with extremely taxing write based workloads. It is able to deliver 10 full drive writes every day, for five years.
The 730 is based on these drives, but as a consumer model it is using 20nm ONFI flash memory. The controller has been overclocked from the 400mhz speeds in the server models, to a final clock speed of 600mhz. NAND bus speeds have also been increased from 83mhz to 100mhz.
The 730 is also protected with an impressive five year warranty – covering 70GB of data transfer each day across the time frame. If you are moving a lot of data around every day and demand the highest levels of reliability, then this is a very strong selling point.