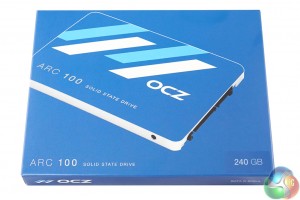 The OCZ ARC 100 ships in a small blue box with the product clearly visible on the front.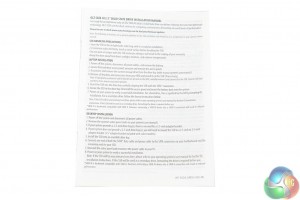 No bundle as such, just a simple leaflet in the box. No cloning software is supplied with this drive – that is only included with the Vertex 460 and Vector 150 drives.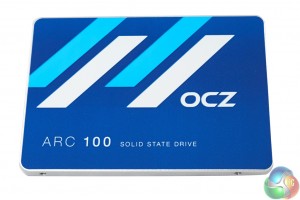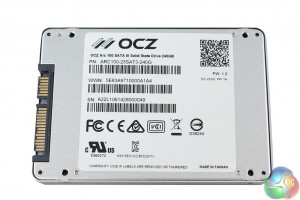 The ARC 100 measures 100.2 mm x 69.75 mm x 6.7 mm. It will fit into the smallest Ultraportable laptop cases which is always good to note.
Be aware if you want to access the internals of the drive you need to remove the front sticker on the chassis. It loses all stickiness when it is removed and also invalidates the warranty so we don't advise you to do this at home – that is why we are here after all!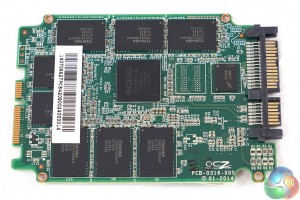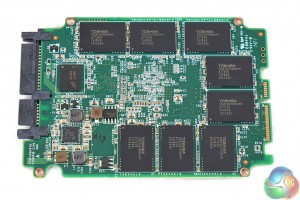 The ARC 100 is using the OCZ Barefoot 3 M10 controller and it features A19nm Toshiba Multi Level Cell Flash NAND. It supports 256 bit AES compliant encryption and has full Self Monitoring, Analysis and Reporting Technology.
OCZ rate the ARC 100 at an endurance level of 20GB per day for 3 years under typical client workloads. This is the same rating they give the Vertex 460 drive, although the high end Vector 150 is rated at 50GB per day across a 5 year period.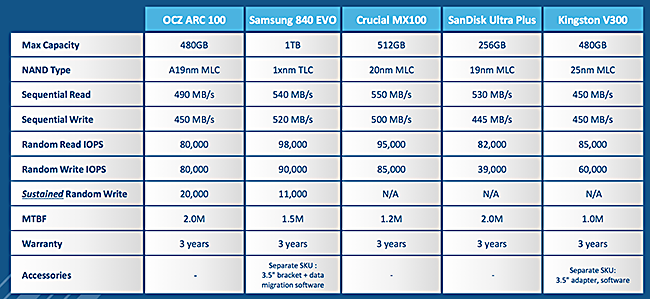 We mentioned earlier in the review that one of the biggest challenges the ARC 100 will face will be against the very popular Samsung 840 EVO drive. We can see that according to OCZ's own charts, the Samsung 840 EVO outperforms the ARC 100 in sequential read and write tests, as well as Random read and write IOPS. OCZ do claim the ARC 100 is the clear market leader when it comes to sustained Random Write IOPS however – rating at 20,000 (against 11,000 for the 840 Evo).