There is no doubt that the Plextor M6e Black Edition delivers credible performance – first impressions are positive, it is a very attractive product, and the raised red heatsink will look great set against some subtle system lighting.
When we delve further into pricing, placement and overall performance I am however unfortunately left with some rather serious questions and a unshakeable feeling of disappointment.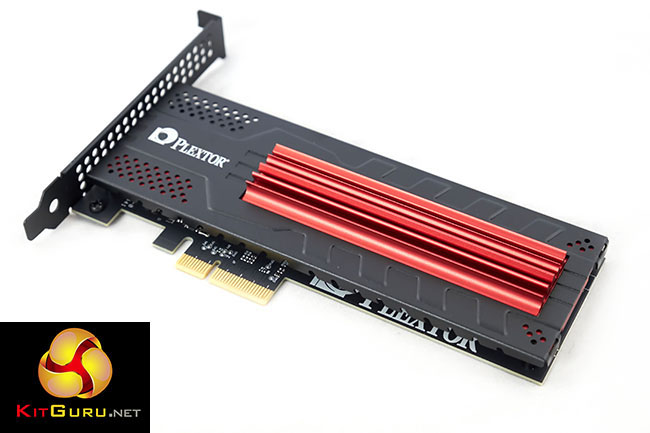 The SATA 3 interface is becoming a bandwidth concern for the audience who seek the highest levels of performance. We have already tested Solid State drives which are capable of completely saturating the SATA 3 interface.
The move to PCIe card driven Solid State Solutions makes sense – the bandwidth is greater so achieving sustained transfer speeds well in excess in 1GB/s is possible. Sadly the Plextor M6e Black Edition falls short of what I had hoped initially – sustained write speeds are only a little better than the fastest SATA 3 drives and sustained read speeds are limited to 740MB/s.

IOPS performance is reasonably strong, but in reality no better than the leading SATA 3 based solutions we have tested. Sadly our own tests fell some way short of Plextors 100k+ claims, which wasn't very reassuring.
If I was losing a PCIe slot to provide space for a fast boot drive I would absolutely want more performance than the M6e Black Edition can deliver. The final results are uninspiring. Additionally we would strongly advise against considering the 128GB version of the M6e Black Edition … official, claimed write performance results are rated at only 335MB/s. By 2015 standards, this can only be categorised as weak.
I wanted to get a second take on the Plextor product, so I brought in my colleague, senior hardware editor and motherboard expert Luke Hill.
He said: "If you really want PCIe-based storage at a reasonable price point, Plextor's M6e has proven to be a solid option. It doesn't offer ground-breaking transfer rates (like Samsung's XP941), but the bare M.2 is a potentially justifiable price upgrade over SATA 6Gbps solutions. Furthermore, the M.2 connector has faultless compatibility on most Intel 9-series motherboards, without stealing a PCIe slot (not to mention ruining the lane distribution for SLI, in many motherboard cases).
Plextor's M6e Black Edition falls foul on both of those points. For consumers with older motherboards, who will value the PCIe card connection, its price is far too high when compared to even the fastest SATA 6Gbps SSDs (as well as the 'standard' M6e editions). The other boon for many users will be the required sacrifice of a PCIe slot and the inherent graphics potential of their system.
At 10-20% more than something like Samsung's market-leading 850 Pro, maybe. But with the Plextor M6e Black Edition asking for an extra 40% over SATA's fastest consumer SSD, that's pushing the limits of sensibility."


You can buy the Plextor M6e Black Edition PCIe 256GB drive from Overclockers UK at £209.99 inc vat. Honestly,  I would recommend two Samsung 850 EVO 250GB drives – put them into a RAID 0 configuration. End result – greater performance (1GB/s+), roughly the same price (£210), with the added benefit of doubling your storage capacity.
Discuss on our Facebook page, over HERE.
Pros:
Marvell controller is equally good with incompressible and compressible data.
good IOPS performance.
lovely looking product.
Cons:
twice the price of high grade 250GB SATA 3 drives.
you lose a PCIe slot.
overall performance is quite disappointing.
Kitguru says: The Plextor M6e Black Edition PCIe 256GB is twice the price of a Samsung 850 EVO 250GB drive, performance is also a little uninspiring especially as you are forced to lose a PCIe slot.