Plextor supply a free software package available via download. This supports all of their SSD drives.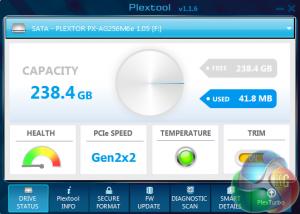 The main Plextool screen gives a basic overview of the hardware installed. In this case, health, connection speed, temperature and TRIM functionality.
PlexTurbo 2.0 has three main advantages;
Performance boost: the SSD uses a maximum of 4GB of DRAM of the system/laptop/desktop (1/4 of the DRAM of the system with a max of 4GB) as cache. An application will write the data simultaneously on the cache as well as on the SSD. Instead of overwriting the entire file, the SSD compares the existing data and decides which data can be ignored, and which data should be rewritten. At the same time, the SSD uses the cache for quicker access to the frequently used data. Because of this unique communication with the DRAM of the system and the SSD, high speeds can be reached.
Life Extension Mechanism: Because the SSD reduces unnecessary rewriting of redundant data, the life of the SSD increases drastically.
Safe Power Loss: Because the information is written simultaneously in the cache of the system as well as the SSD, in the event the SSD is unplugged suddenly, the data loss can be minimized because it has been written to the SSD. For some other caching software in the market, the data is only written in the cache after the program is well finished. If the power supply is suddenly interrupted, all the data would be lost.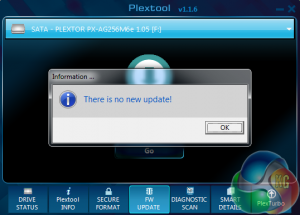 We checked for a firmware update before testing the drive.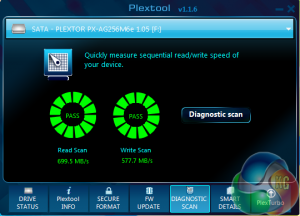 The Diagnostic scan page is both a troubleshooting tool and benchmarking option.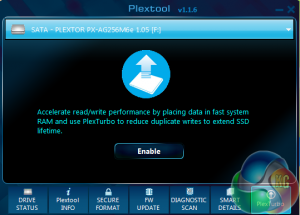 The PlexTurbo option is available via the last tab in the software. It requires a reboot. When this is enabled it will use fast system memory to enhance the overall performance.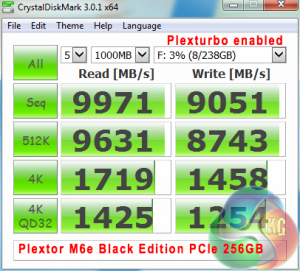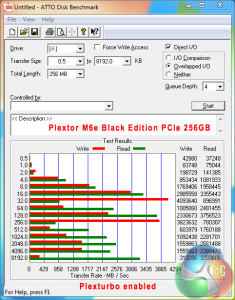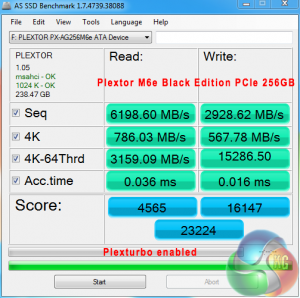 While the above performance results look incredible I have to honestly say that there are very little, if any tangible real world improvements after enabling the PlexTurbo feature. That said, it didn't seem to cause any issues so I see no reason to turn it off.