Since launching the PlayStation VR headset, Sony has relied on the ageing PS Move controllers to provide motion controls for its games. However, that could be changing soon as it appears Sony has been developing a new set of controllers, which have since been detailed in a patent filing revealed this week.
The redesigned motion controllers are better suited to virtual reality gaming in a number of ways. The controllers have an analogue stick in addition to face buttons on each stick. Triggers remain present and the safety strap has been moved from the bottom of the controller, to its side so you can properly secure each controller to your hand.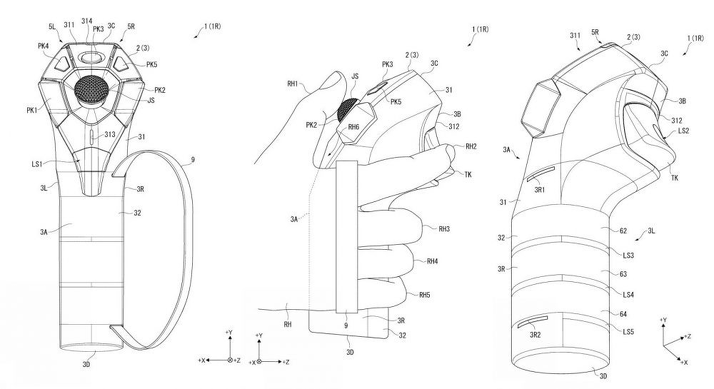 Sony has also previously filed a patent for finger tracking technology. However, unlike Valve's upcoming 'Knuckles' controllers, Sony's implementation will track fingers from the headset itself, indicating that perhaps a new PSVR headset will be on the way.
The Playstation Move controllers originally came out in 2010 as a peripheral for the PS3. The goal at the time was to compete against the incredibly popular Nintendo Wii, but that did not end up panning out. With Virtual Reality coming into prominence, Sony had a reason to begin selling them again, but they don't quite match the modern motion controllers found with the VIVE and Rift headsets. With that in mind, a new set of PSVR controllers seems like a great idea.
KitGuru Says: These are just patent filings for now, so we don't know when or even if these products will make it to market. However, given how old the PS Move controllers are, I wouldn't be surprised to see a revamped version before the end of the year, particularly with Sony releasing more VR games throughout 2018.