Alienware has started shipments of its Alpha system, which was once supposed to become the first Steam Machine. The Alienware Alpha small form-factor PC gaming console is designed as an ultimate gaming solution for the living room. The system's price starts at $549.
Alienware Alpha is based on dual-core /quad-core Intel Core i3/i5/i7 processors and comes with factory-overclocked Nvidia GeForce GTX 860M 2GB graphics adapter. The basic configuration of Alienware Alpha is equipped with Intel Core i3-4130T, 4GB DDR3 memory, 500GB hard disk drive, GeForce GTX 860M 2GB, 802.11ac WiFi, Bluetooth 4.0, Xbox 360 wireless controller, Windows 8.1 operating system and so on. While the system can be configured to feature 8GB of DDR3 memory and 2TB hard drive, the graphics adapter does not seem to be upgradeable.
Out of the box, the Alienware Alpha boots directly into the Alpha UI that provides a full console-based experience – no mouse or keyboard needed. From there users decide how they want to experience games on their Alpha; they can set the console to boot directly into Steam Big Picture to access their game library, or access the full Windows 8.1 desktop for a more traditional PC gaming experience and other video game distribution systems, such as Origin.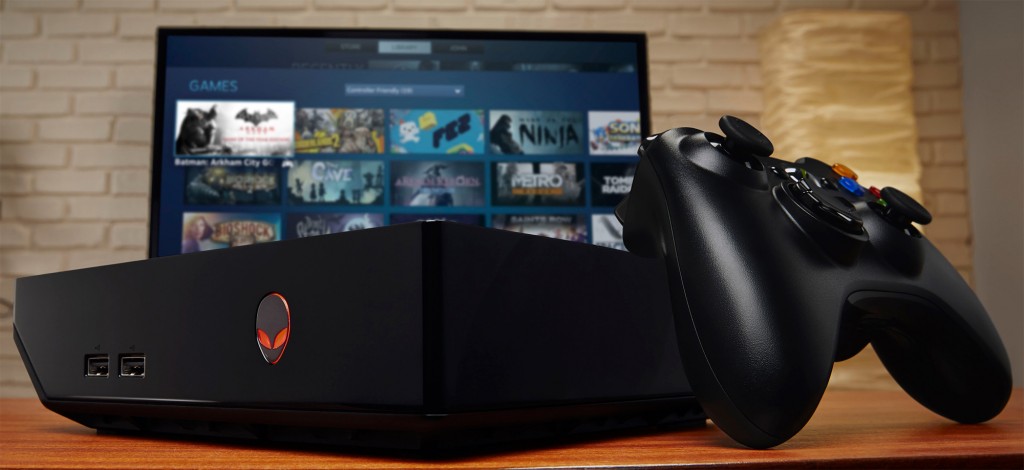 For a limited time, those who order the Alienware Alpha will receive their PC consoles packed with free bonus content including the complete versions of Anomaly: Warzone Earth, Awesomenauts, Magicka, Metro: Last Light, PayDay2 and Strike Suit Zero. Alienware Alpha will also include an exclusive Gauntlet in-game item, the Magicka: Dungeons and Daemons DLC, as well as Alienware exclusive demos of Defense Grid 2 and Super Splatters.
Although Alienware positions Alpha as a PC gaming console, it may not be the best gaming solution in general. Modern games use more than 2GB of graphics memory, 4GB of system RAM is also not enough for contemporary titles. Finally, while the GeForce GTX 860M/GeForce GTX 750 Ti is a fine graphics adapter, it hardly provides enough performance to play all games in 1920*1080 resolution.
Discuss on our Facebook page, HERE.
KitGuru Says: At $549 the Alienware Alpha seems to be decent desktop machine. Still, the main drawback of the system is that it features a graphics adapter which cannot be upgraded.