When MicroStar International (MSI) introduced its truly monstrous GT80 gaming laptop last year, the company clearly impressed the whole world with a fully-fledged mechanical keyboard as well as with extreme performance such system could deliver. What MSI did not say last November were exact specifications of the system as well as its starting price. At the CES 2015, MSI finally announced pricing details, without any surprises, the price tag is as extreme as performance.
As reported, the MSI GT80 Titan laptop in its maximum configuration is powered by quad-core Intel Core i7-4980HQ "Haswell" microprocessor as well as two GeForce GTX 980M 8GB in SLI mode. The system is expected to feature up to 24GB of DDR3L memory (up to 32GB possible with 16GB SO-DIMMs), up to four M.2 solid-state drives in RAID 0 mode for maximum performance and a 1TB hard disk drive with 7200rpm spindle speed for maximum amount of storage. The system is also equipped with SteelSeries mechanical keyboard with MX Brown switches, Qualcomm Atheros Killer DoubleShot Pro network solution that supports Gigabit Ethernet and WiFi 802.11ас (and gives priority to traffic generated by games), Dynaudio and Creative Sound Blaster Cinema audio system, 1080p webcam and so on. All the modern interfaces like USB 3.0, mini DisplayPort and HDMI are also present. Check out our video preview of the MSI GT80 Titan.
While the system's internals seem to offer the best what the technology could possibly provide today, MSI could not find a proper ultra-high-definition (4K, 3840*2160) or even a beyond full-high-definition 18.4" display panel. As a consequence, the GT80 Tital will ship with a Samsung's PLS display with full-HD (1920*1080) resolution, something that is not good enough for an extreme gaming machine nowadays. Over time, MSI can upgrade the monitor of its GT80 Titan, but only when and if appropriate panels become available.
One of the key features of the GT80 Titan is its easy-to-open chassis, something that allows great upgradeability when current top-notch components become outdated. While it is easy to obtain new SO-DIMM memory modules, M.2 solid-state drives or 2.5" hard disk drives and upgrade them at home, it is relatively hard to get graphics processing units in MXM form-factor. To actually enable its customers to upgrade the key component of any gaming PC, MSI teamed up with its system integrator partners – such as iBuyPower, XoticPC, GentechPC, and PowerNotebook in the U.S. – who agreed to upgrade systems eventually. Owners will have to ship their machines to the aforementioned companies and pay for the upgrades, after completing the job, they will ship the machines back to the owners along with old GPUs, reports AnandTech. It remains to be seen how everything will work in other parts of the world, but, at least, it is clear that MSI wants its system to be upgradeable.
Since mechanical keyboard requires a lot of space for switches, the GT80 Titan is 49.1mm thick and weighs 4.7 kilograms. Due to its dimensions, weight and minimal battery life, it is unlikely that the system will ever be used as a laptop to work on the road. Still, it is remarkable how much performance MSI has managed to squeeze into a mobile form-factor.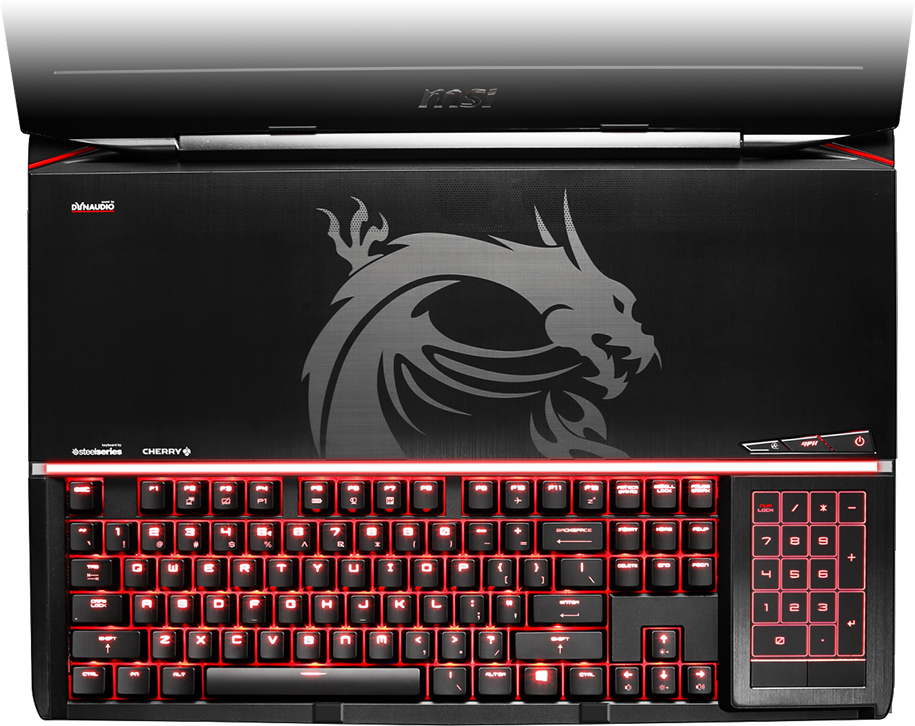 While MSI's GT80 Titan laptop will offer remarkable performance, especially for a PC in clamshell form-factor, its price will also be one of the highest in the industry. The GT80 Titan will be commercially available next week with the starting price of $3299, reports PCPerspective; a version for $3499 includes the faster Core i7-4940MX processor. Default configuration is unknown, but it is unlikely that they sport the best memory, storage and graphics options.
You can see our coverage on a Pre-retail version of this laptop over HERE.
Discuss on our Facebook page, HERE.
KitGuru Says: Looks like PC gaming hardware is getting more and more expensive. Last year AMD and Nvidia rolled-out $1500 and $2999 graphics cards, respectively. Looks like MSI wants to test how high it can go with a gaming laptop.