It is not a secret that far not all personal computers are able to run video games with virtual reality headsets. At the Oculus Connect 2015 conference, Oculus VR introduced its "Oculus Ready" PC program, which is designed to help those, who want to get a new PC, which can support virtual reality gaming.
The "Oculus Ready" PC program is targeted at those, who would like to get a gaming PC, but who is not technically savvy enough to build personal computers themselves. The logotype will show such people that their new PCs will work fine with the Rift virtual reality headsets from Oculus VR right out of the box.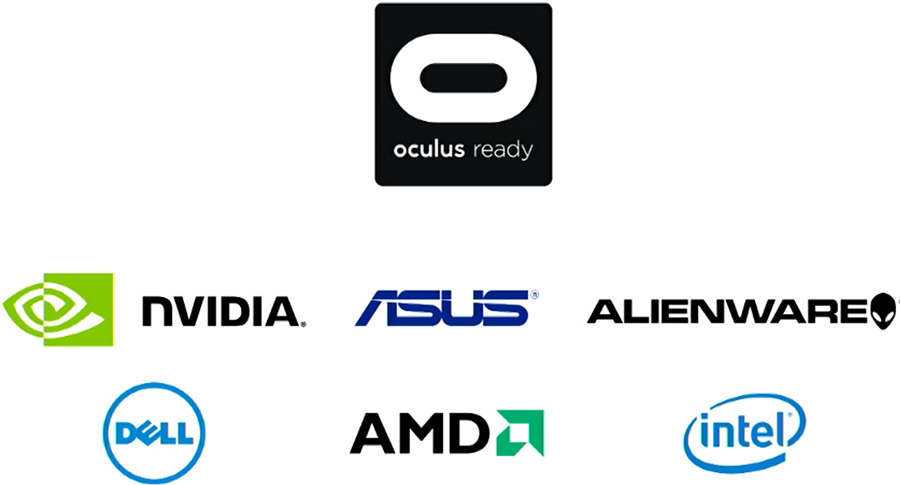 Oculus VR claims that in a bid to play current-generation games with Oculus VR head mounted display (HMD), one needs to have a PC with a quad-core Intel Core i5 "Haswell" processor, an AMD Radeon R9 290-series or an Nvidia GeForce GTX 970 graphics adapter, 8GB of dynamic random access memory and a large-capacity storage device. Given rather moderate specifications of such PCs, it is highly likely that virtually all modern gaming systems can carry the "Oculus Ready" sticker.
Oculus VR's partners for the program are Asustek Computer, Alienware, AMD, Dell, Intel and Nvidia. Initially, "Oculus Ready" personal computers will be available only from Asus, Alienware or Dell. Eventually the program may gain additional supporters.
The developer of the virtual reality headset claims that there will be various "Oculus Ready" rigs, including machines that cost less than $1000.
Oculus VR plans to release its Rift VR headset for consumers in Q1 2016.
Discuss on our Facebook page, HERE.
KitGuru Says: At present, virtually all of those, who plan to use Oculus Rift head-mounted display can probably build PCs themselves. However, if VR in general becomes more or less popular already next year, the program will help to avoid frustration from poor virtual reality experience on cheap PCs.