When Intel Corp. revealed first details about its mobile platforms powered by its code-named "Skylake" microprocessors about a year ago, the company said that the new systems would feature a number of innovative technologies, including wireless charging, fast wireless docking, Thunderbolt 3 interconnection, RealSense cameras and so on. But while the Thunderbolt 3 tech will be more or less widespread, other will remain exotic, at least for for now.
Intel "Skylake": High performance, better functionality and longer battery life
Notebooks, hybrid 2-in-1 systems as well as high-end tablets based on Intel Core i-series and Core M-series "Skylake" processors promise to be significantly better than existing mobile devices based on central processing units that belong to the "Haswell" and the "Broadwell" generations. The new systems will be thinner and lighter, they will offer higher performance and longer battery life, whereas Windows 10 operating system will improve their functionality.
Central processing units featuring "Skylake" micro-architecture offer 10 – 20 per cent higher performance in general-purpose applications compared to previous-gen chips. The new CPUs also integrate Intel's ninth-generation integrated graphics core (Intel Gen 9 LP) with a number of architectural improvements as well as increased amount of execution units, which could bring up to 40 per cent higher performance. New-generation Core M-series "Skylake" system-on-chips with built-in core-logic offer tablet-focused input/output technologies, such as eMMC 5.0, SD XC 3.0, CSI2 [camera interface specifications], USB OTG and so on, which allows to build better ultra-portable devices.
While the new "Skylake"-based systems will be significantly different than mobile devices powered by previous-gen CPUs, not a lot of them will support technologies that will dramatically change usage models of PCs in general, such as Rezence wireless charging, WiGig wireless docking and so on.
30 PC designs with Thunderbolt 3
According to Intel, the adoption of Thunderbolt 3 is substantially faster than adoption of previous versions of the technology. At least 30 mobile PC designs with Thunderbolt 3 will be available within the next year. By contrast, only 20 – 30 PC models supported the original Thunderbolt and Thunderbolt 2.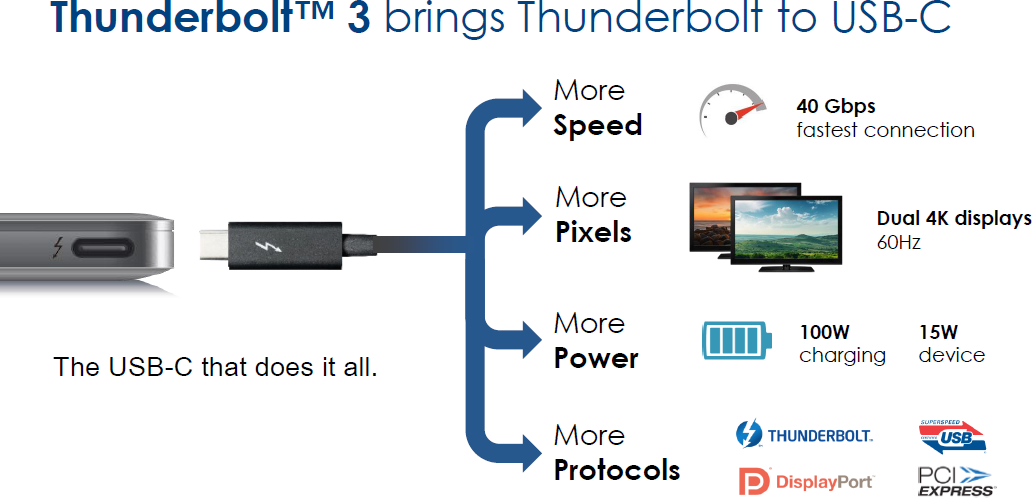 40Gb/s interconnect will significantly improve performance and capabilities of mobile PCs. For example, it will be possible to add external graphics adapter or a very fast SSD to an ultra-portable device. Essentially, Thunderbolt can help to transform a mobile PC into a high-performance gaming or workstation system with almost infinite possibilities.
WiGig to remain a rare feature for now
Intel Wireless Docking technology allows connecting various bandwidth-demanding devices to any mobile computers without wires, which significantly changes the way mobile PCs are used.
Intel Wireless Docking relies on the WiGig technology (IEEE 802.11ad), which allows devices to communicate at up to 7Gb/s data-rates using the 60GHz spectrum. The first version of Intel's tech supports up to two full HD displays and provides connectivity for any USB 3.0 device, such as storage or HD camera that is WiGig-enabled or connected to a wireless gigabit docking station. To enable Wireless Docking, notebook makers have to integrate Intel's tri-band wireless-AC 17265 client card into laptops and design a dock featuring Intel wireless gigabit antenna-M 10041R antenna module.
Intel claims that WiGig is now supported by two times more PC SKUs than before, but it looks like the number of Wi-Gig-enabled PC models is still extremely low.
Rezence: Only for phones and tablets in 2015
Wireless charging technology – also known as Rezence – could help to build mobile devices with unlimited battery life. The magnetic resonance wireless charging technology (promoted by the Alliance 4 Wireless Power [A4WP]) was supported by select reference designs of Intel "Skylake"-based devices announced in 2014, but it does not look like a lot of laptops or 2-in-1s will support Rezence this year.
"For 2015, our focus is on 5W wireless charging accessories for phones and tablets," said Anna Cheng, a spokesperson for Intel.
One of the reasons why Intel's partners are unwilling to add support for Rezence into their "Skylake"-based devices is the lack of appropriate infrastructure. Intel has decided not to invest in development of appropriate infrastructure itself (like it did with Wi-Fi back in the days to promote its Centrino platforms ) and at present there are not a lot of public places that support Rezence. The number of places with wireless charging will grow over time, but at present PC makers just do not want to add Rezence support to their devices.
"We are trialing [Rezence] with a number of collaborators, including Hilton, Jaguar Land Rover, San Francisco International Airport and Marriott," said Ms. Cheng.
RealSense: Six designs in six months
Intel's RealSense cameras are expected to bring human-like senses to a broad range of personal computers. Since implementation relies on hardware, but depends on software, it is unlikely that the technology will become widespread any time soon. Nonetheless, Intel is working with multiple computer makers and expects four to sixPC designs with RealSense cameras in the next several months.
"We are working with top OEM players to enable the different Intel RealSense cameras into their products," said the spokeswoman for Intel. "Expect to see four to six new products [with Real Sense R200 camera] launching in the next four to six months. We have enabled an Intel RealSense technology peripheral camera, to enable the experiences on desktop PCs as well."
Some things are just not ready for the mass market
Without any doubts, there are many technologies that will significantly alter usage models of mobile personal computers in the coming years. Thunderbolt 3, Rezence, wireless docking and RealSense are among such technologies.
While Thunderbolt 3 and WiGig can be enabled by simply adding hardware, Rezence requires infrastructure, whereas RealSense needs software that takes advantage of its cameras. Since in many cases users cannot use Rezence and RealSense, PC makers do not want to add them to their systems because they make products more expensive and will not be considered as major improvements by end-users.
Discuss on our Facebook page, HERE.
KitGuru Says: A good thing is that Intel "Skylake"-based systems clearly move progress forward and significantly improve personal computers. However, it is evident that such systems could have been far more revolutionary than they are.