CrystalDiskMark: 
CrystalDiskMark tests the raw speed of a storage device. It uses a test file to write data to or read data from the drive. We test using the default 1GB file size.

The SSD used is the M.2 NVMe Samsung 256GB PM981 – an upgrade from the PM961 used with the Advanced model we reviewed earlier this year. This is a very quick little drive with a fast read and write speed that means that the Razer Blade boots up in a flash and makes the OS very snappy. There's also enough space to squeeze on a few frequently used programs or games.
The bonus of the Razer Blade Base model is that it comes with the addition of a 2TB HDD which is where the Advance model is lacking. It's far from the fastest drive but it is upgradable if needs be and it means there is plenty of space for your game library and assorted media.
Cinebench R15:
Cinebench R15 is a cross-platform testing suite that measures CPU performance. We compare the Fusion II with some other laptops we have tested that feature the same processor for a quick comparison to demonstrate its relative performance.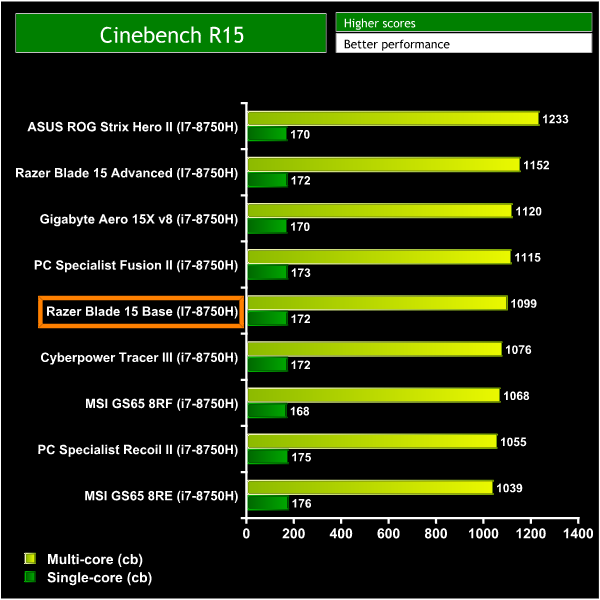 The Cinebench score achieved by the Razer Blade 15 base sits somewhere in the middle compared to other laptops we have tested with the i7-8750H. Looping Cinebench 10+ times does eventually heat up the CPU and the score will drop down to 987. This is to be expected from this Coffee Lake processor as the clock speed decreases as the temperature of the CPU rises over time.