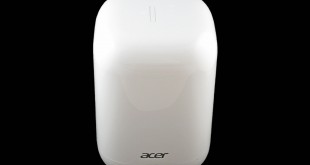 The Revo One RL85 is a nifty mini-PC on offer from Acer. While there are several models available – from Celerons up to Core i5 variants – the particular Revo One we received features a Core i5-5200U, 8GB RAM, a 60GB boot SSD and two 2TB hard drives configured in RAID 1. How effective is the Revo One as a mini-PC solution?
Watch the video on our VIMEO Channel (below) or over on YouTube HERE
Processor: Intel Core i5-5200U
Memory: 8GB DDR3 Low Voltage
Hard Drive: 2 x 2TB 5400rpm, 60GB Flash Disk SSD
Optical Drive: None
Software: Windows 8.1 64bit, upgrade to Windows 10 available
Display: Not Included
Audio: Integrated high-definition sound
Networking: 802.11 a/b/g/n/ac/+BT Kit
Power Supply: 65W PSU
Dimensions: Width 106.5mm, Depth 106.5mm Height 155mm, Weight 1kg
Interfaces: 2 x USB 2.0, 2 x USB 3.0, 1 x HDMI-Out, 1 x DisplayPort, 1 x LAN Port, 1x Audio Jack
Expansion Slots: 1 x Mini PCI Express
Over the last few months my colleague Leo Waldock has reviewed several 'barebones' mini-PCs, including the Gigabyte BRIX S and the Asus VivoPC to name a couple. The Acer Revo One differs from such mini-PCs as it is not a barebones system – rather, you are buying a fully built and functioning PC.
That said, there is one area where users can chop and change things – that area being the system storage. By default, this particular model reviewed (part number DT.SYYEK.013) has an in-built 60GB boot SSD, and two 2TB HDDs. It is the HDDs we are interested in as they are both fully removable.
As you can see in the photos above, there are two removable drive caddies which slot into the two SATA ports on either side of the mini-PC. Drive removal is entirely tool free, as you just pop the protruding clip upwards to first remove the caddy, and then slide the HDD out of the caddy itself. From here, you can swap in any 2.5″ drive of your choice.
By default the two 2TB Samsung HDDs are configured in RAID 1 – which mirrors data across both drives. This protects your data should one drive fail, so it is very understandable that Acer have included this option – as the Revo One seems to be intended as a media PC, having your films and music protected from drive failure makes a lot of sense. However, if you wish you could break up this RAID 1 configuration, and thus enjoy the full 4TB storage. Personally I'd be inclined to leave it be, as for a mini-PC, 2TB is a fair amount of storage – and RAID 1 protects you from drive failures. Still, the option is there for those who may want it.
Aside from functioning as a media centre – which is clearly the intended purpose of the Revo One as a bluetooth remote control is supplied, and there is even a remote control app available – the Revo One would even make a decent desktop PC for your general computing tasks. This is thanks to the Broadwell-U i5-5200U CPU (2.2GHz which turbos to 2.7GHz), which is a good little performer. Obviously it is a laptop processor, but it is more than able to handle general office tasks such as web browsing, emailing and word processing. Considering the relative processing power, with a generous 8GB of RAM, this mini-PC begins to seem rather versatile.
Benchmarks
It should go without saying that the Revo One is not for gaming. I have seen the integrated Intel HD 5500 graphics unit a few times now, and it simply lacks the grunt necessary for real games. Still, the Revo One gives fast benchmark scores, particularly in the video encoding test – 6:57 is the quickest encode time I have seen from any PC that I have worked with here at KitGuru.
Thermal dynamics and power consumption
As you can see, temperatures inside the Revo One are absolutely fine – a peak of 79 Celsius during Prime95's Small FFTs test is warm but well within the thermal limits of the CPU. Power draw is also just what we would expect from a system based on the Broadwell-U architecture.
Closing Thoughts
The Acer Revo One RL85 acquits itself very well in almost all areas.
It has a sleek and stylish modern design, with a good array of connectivity ports and display outputs – meaning dual-monitor setups are supported. The ability to remove hard drives (entirely tool-free, I might add) is also a great addition to the design of the Revo One, giving users ultimate control over the storage in their mini-PC.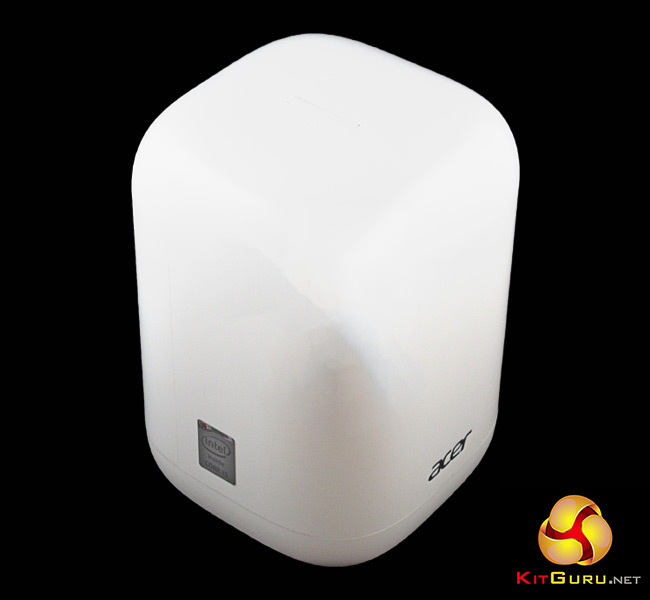 While the included remote control and large storage space suggests the Revo One is intended primarily as a media PC, the Broadwell-U Core i5-5200U CPU is very capable in its own right if you want to use the Revo One as a traditional desktop PC. For everyday tasks the system is nice and responsive – it just won't handle the latest games.
So all-in-all it is a very capable and tidy system. The one drawback seems to be the pricing, which currently stands at £649.98. This does feel like a lot for a small, mobile-powered mini-PC. Consumers may wish to consider the DT.SYYEK.016 Revo One, which is almost identical – there is just no boot SSD and 'only' 2TB storage as standard, rather than 4TB. This model is available for £479.99, which does seem more reasonable.
So on that basis, I have to withhold the highest award from this particular Revo One as it is rather pricey. Still, it is a very good little system and I would encourage readers who may be looking at a mini-PC (for either media or general tasks) to seriously consider a Revo One – even if it may not be this exact model.
You can buy the Revo One RL85 DT.SYYEK.013 for £649.98 inc VAT from Ebuyer.
Pros

Small and attractive mini-PC
Two swappable drive bays
Core i5 is a good performer
Supports dual-monitor setups
Cons
Rather expensive for what you get
KitGuru says: The Revo One is a well-built mini-PC, and packs in a fair amount of grunt into its small chassis. The only downside is the price, which seems rather steep for a mobile-powered system.