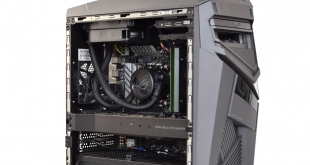 With both Intel and Nvidia releasing new consumer products within a month of each other, it was only a matter of time before we saw our first pre-built PC with a 9th Gen CPU and a shiny new RTX graphics card. That time has come today, as we review the ASUS ROG Strix GL12CX complete with i9-9900K and RTX 2080. It promises a lot of gaming power, while it also has a few extra tricks up its sleeve that we don't see everyday. The question is, can it justify the £2999 asking price?
Note: if the above images are not displaying properly, you may need to disable your ad block software as they are known to interfere with our display code.
Specification
Operating System: Windows 10 Redstone 4
Volume: 27L
Processor: Intel® Core™ i9-9900K Processor
Graphics: NVIDIA GeForce RTX 2080
Main Memory: 2 x Long-DIMMs DDR4 2666 Max.32GB
Chipset: Z390
Drive Bays: 1 x 9mm ODD, 2 x 3.5", 1 x 2.5", 1 x 2.5" Hot Swap Bay
Storage: 5 x SATA 6GB/s, 2 x M.2 Connector (Hybrid SATA, NVME, Optane)
Expansion: x 16 (occupied by discrete graphic card), 1 x PCI-E x 1, 1 x M.2 Connector (WiFi)
Optical: Slim Type DVD-ROM SuperMulti DVD RW
Connectivity: Realtek GigaLan, WiFi (IEEE 802.11 ac) + BT4.1(M.2, 2T2R)
Audio: ALC1150 Codecs, Premium Nichicon™ Audio Capacitors
Front I/O: 2 x USB 3.1 Gen 1 type A, 2 x USB 2.0 type A, 1 x Mic in /Headphone out, 1 x Card Reader 2 in1 Half
Rear I/O: 2 x USB 2.0 type A, 2 x USB 3.1 Gen 2 type A, 4 x USB 3.1 Gen 1 type A, 5 x Audio jacks, 1 x SPDIF, 1 x RJ45
Dimensions: 17.90 (W) x 40.00 (D) x 45.60 (H) cm
Weight: 11 kg
Power Supply: 700W 80 PLUS Gold
As gaming PCs go, the ASUS ROG Strix GL12CX isn't that outlandish with its styling. There is of course the angular front panel with various cut-outs and grooves for ventilation which look quite funky, but compared to something like the MSI Aegis 3 the GL12CX is relatively subdued. It's also a pretty standard size for an ATX desktop, measuring 45cm tall and 40cm deep.
The first nifty feature I want to point out is on the exterior of the case. Not only is there a slim-line ODD (who actually uses those these days?), but below that there is what appears to be a blank card slot, and no it is not for a floppy disk! This is a 2.5in SSD hot swap bay, allowing users to mount a 2.5in drive to the included caddy, and simply push it in to connect to the system. To remove it, just pull on the handle and the drive will come free. Not only is this an easy way to add extra storage to the PC, but it also allows for easy transfer of large files over the SATA 3 6Gbps interface.
Internally, there is also plenty going on. Not only do we find the i9-9900K processor clocked at 4.9GHz (when Turbo mode is enabled, that is) but it is cooled by a modified version of Cooler Master's MasterLiquid120 Pro AIO with a custom CPU block sporting the ROG logo. To the right of the CPU sits 2x 16GB DDR4-2666MHz modules, though it is disappointing to see these do not have any heatspreaders and are the ugly green PCB DIMMs I had hoped would be a thing of the past by now. There's only two DIMM slots as well so any upgrades would necessitate ditching the pre-installed RAM, but it is hard to believe any gamer would want more than 32GB of memory.
While there are only two DIMM slots for memory modules, just to the right we find what ASUS calls the 'DIMM.2' slot which houses the DIMM.2 module. This is essentially a RAM-sized riser card that can house two M.2 SSDs, with one 512GB Samsung SM961 included already. This means it is an easy upgrade to stick in more SSD storage (it can take NVMe or SATA drives) while the module itself also acts as a heatsink to cool the drives.
Below that, the RTX 2080 – the ASUS Turbo model – is just about visible, but you can see it is covered by some kind of metal plate. ASUS calls this the VGA CrossBar, and it is designed to keep your graphics card firmly in place when in transit – so aspiring esports players or LAN party-goers won't arrive to a damaged GPU. On top of that, it also prevents any unwanted GPU sag.
While that is certainly a lot of features to get through, on top of the core components, I do think the actual build itself is lacklustre. We've already mentioned the ugly green DDR4 modules, but the completely unsleeved ketchup-and-mustard PSU cables are even worse. For £3000, I have to say it is frankly absurd that ASUS has not at the very least provided all-black cables – and to be honest, at this price I would really expect some braided cable sleeving.
On top of that, cable management is not great, particularly the front I/O cables which are strewn across the bottom of the case. As you can see in the video, the GL12CX comes with both a solid metal and clear acrylic window, and I am struggling to see the visual benefit of the latter considering the inside of the system is not exactly a thing of beauty.
Around the back of the PC as well, it is ketchup-and-mustard hell, and the only saving grace here is that this side is covered by a solid metal panel so thankfully it is not visible. The cables are all quite bunched up around the bottom left corner, though, and this is where the drive cage is, so adding in a second HDD (a 2TB drive comes pre-installed) would be tricky.
Just to confirm our CPU-Z and GPU-z readouts, the processor is the i9-9900K which runs at 4.9GHz when Turbo mode is enabled within the ASUS Armoury Crate software. This is of course an 8-core 16-thread CPU, and it sits alongside 32GB of 2666MHz DDR4 memory. Interestingly, the Z390 motherboard is not an off-the-shelf model from ASUS ROG's motherboard range, but clearly something bespoke for the GL12CX.
The graphics card is ASUS' own RTX 2080 Turbo, and this is a reference-clocked chip with a rated boost frequency of 1710MHz. Given it is a blower-style cooler, it will be interesting to see how it performs later in the review.
Be sure to check out our sponsors store EKWB here